Norway has signed a deal with Sikorsky to purchase six MH-60R Seahawk helicopters for the Nordic country's coast guard.
Sikorsky revealed the agreement on 26 October, saying the multi-role rotorcraft will support maritime missions including search and rescue and coastal offshore patrol.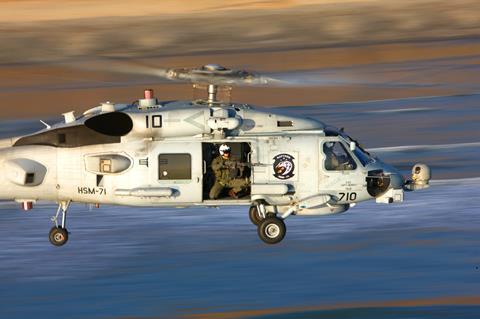 The deal with Oslo marks the second MH-60R award for Sikorsky in recent weeks. Earlier in October, the Spanish navy finalised a deal for eight Seahawks.
"This platform has a long and proven track record of reliability and flexibility in operational environments similar to those faced by the Norwegian air force and coast guard," says Brigadier General Jarle Nergard, head of air systems for the Norwegian Defence Materiel Agency. "This is why we believe the MH-60R is the solution that best meets Norway's current requirements, and why we are very pleased to see this contract moving forward."
Sikorsky expects to deliver all of Norway's aircraft by 2027, it says.
Both the Norwegian and Spanish Seahawk contracts were negotiated under the Pentagon's Foreign Military Sales (FMS) framework. The US Navy (USN) will oversee production, delivery and sustainment of the aircraft under both agreements.
Norway in March 2023 selected the MH-60R as a partial replacement for its fleet of 14 NH Industries NH90s, which it pulled from service in June the previous year amid a long-running contractual dispute with the manufacturer. Oslo operated eight NH90s for coast guard operations and six for anti-submarine warfare missions.
FMS approval for the $1 billion Seahawk deal was received in April 2023.
"The MH-60R is designed for all aspects of land and maritime operations from the vast majority of air-capable ships", says USN Captain William Hargreaves, programme manager for the navy's H-60 procurement office. "We are confident in Norway's selection of this unmatched, multi-mission helicopter to support their coast guard."
To date, Sikorsky has delivered 330 MH-60Rs to five countries. The Lockheed Martin subsidiary has made overseas sales a major focus of its business strategy following its loss of the US Army's Future Long-Range Assault Aircraft competition.
Sikorsky holds unfilled orders for 64 MH-60Rs, including those bound for Australia, Greece, India, Norway, South Korea and Spain.