Latvian carrier Air Baltic will be an all-Airbus A220 operator when it resumes operations, having made the decision to remove its De Havilland Canada Dash 8s and Boeing 737s from service early as a result of the coronavirus crisis.
Acknowledging that the timescale for service resumption is unclear amid the global health emergency, Air Baltic chief executive Martin Gauss nevertheless tells FlightGlobal on 2 April that the carrier has formulated a business plan to gradually restart operations when government-imposed restrictions are eventually eased across its markets.
"We can start any week with five aircraft, and then we add at at least one aircraft each week, and we build up the network again to a maximum this year of 22 Airbuses flying," he states.
Cirium fleets data shows that in mid-February the carrier was operating 38 aircraft: 22 A220s, 12 Dash 8s and four 737-300s.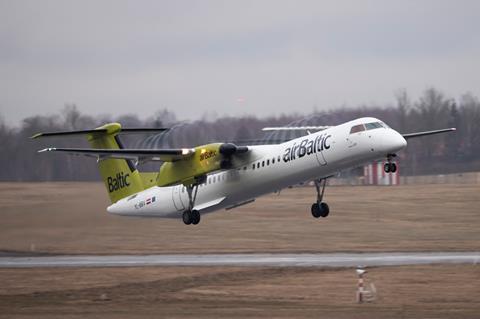 Air Baltic – which ceased scheduled operations on 14 March, ahead of most carriers in Europe, as the Latvian government shut the country's borders to international scheduled traffic – was previously due to retire its four 737-300s after the 2020 summer season, while its 12 Dash 8s are leased until 2023.
But under its newly revised business plan, it will this year become an A220-only operator, achieving the "full [fleet] simplicity we wanted to have in the year 2023" much earlier than expected.
Of the 12 turboprops, Gauss states that "we can now make a positive business case" for taking them out of service – "even paying for them and not flying them".
He continues: "I see that as a big upside for us once we can start operations again," citing the superior economics of the A220 and the business efficiencies created by operating a single type.
The roughly 40% reduction in Air Baltic's fleet size this year is line with Gauss's expectations for how quickly air travel demand might return. He notes, for example, that inevitable frequency reductions on some routes mean there will be no need for 76-seat Dash 8s to augment A220 services.
Alongside the reduction in its fleet size, Air Baltic has laid off 40% of its workforce.
"We are saying to all the people who have to leave now that we will re-employ them as we add capacity," Gauss notes, referring to the point at which the carrier can take deliveries of more A220s.
The Air Baltic chief told Airline Business in December that the airline was due to take four A220s in 2020, but Gauss is now talking to Airbus "about future deliveries", and to lessors about payment holidays.
Air Baltic has 28 outstanding firm orders for A220s, plus 15 on option and 15 under a letter of intent to order, according to Cirium fleets data.
Of Air Baltic's ability to stay in business during the coronavirus crisis, Gauss notes that the 80% state-owned carrier has a strong cash position.
A full interview with Martin Gauss will be published in the May 2020 issue of Airline Business and on flightglobal.com