Like most airlines globally, Indonesia's Lion Group has been in discussions for rental deferral agreements with its lessors during the Covid-19 driven downturn.
Back in April, the company told its lessors in an email, seen by Cirium, that capacity had been decreasing and yields had dropped by 35%. Combined with the depreciation of the rupiah by about 20%, the negative impact had been "effectively doubled."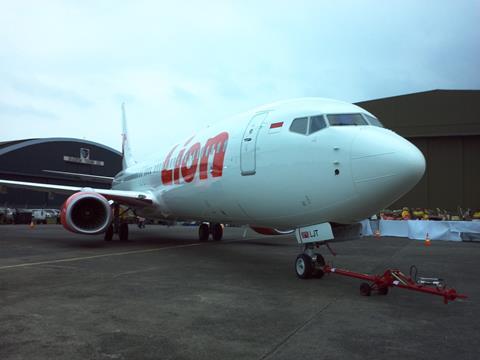 The company – whose airlines include Lion Air, Thai Lion Air, Malindo Air, Wings Air and Batik Air – asked for rental deferrals, adding: "It goes without saying that the group acknowledges the terms of the leases and will respect your choice if you prefer not to support as above but prefer to ground the aircraft or find another airline lessee instead."
More recently, Cirium understands that the company has approached its lessors to ask them to agree to power-by-the-hour (PBH) agreements for a duration of 24 months.
"A typical PBH agreement usually involves a minimum spend amount, as well as a charge per flight hour," says Thomas Kaplan, senior valuations analyst at Ascend by Cirium.
"A maximum monthly charge may also be set, plus the minimum monthly charge can be less than half the normal full lease rate."
Before Covid-19, PBH agreements were often applied to seasonal operations, Kaplan adds.
"So the airline would pay full rent in summer, while in winter its usage of the aircraft would be governed by the PBH agreement. But with Covid-19, all seasons are now winter."
LESSOR EXPOSURE TO LION
Excluding Lion Group's Singapore-based captive lessor Transportation Partners, 32 lessors have exposure to the group's flagship carrier Lion Air to the tune of 109 aircraft, Cirium fleets data show.
Meanwhile, Batik Air has 20 lessors leasing 62 aircraft, Malindo Air has 11 lessors leasing 19 aircraft, Wings Air has five lessors leasing 25 aircraft, and Thai Lion has five lessors leasing 10 aircraft.
In total, the fate of more than 220 aircraft hangs in the balance, and dozens of lessors will be busy negotiating with the group over the fate of those planes.
While at least one lessor appears to have lost patience with Lion – Law360 reports that Goshawk is suing the carrier in an English court for more than $12.8 million in regard to seven 737 leases agreed between 2015 and 2020 – others are negotiating with the carrier, multiple lessors tell Cirium.
It is not clear whether Goshawk is also in talks with Lion regarding PBH agreements.
"We're unhappy with PBH, clearly," says one lessor with exposure to Lion. "On a personal level, I think Indonesia will take a long time to recover."
Indonesia, a sprawling archipelago of over 17,000 islands, has the second highest Covid-19 death toll in the Asia-Pacific region, after India, according to data from Johns Hopkins University. As of 24 September, the country has reported over 257,000 cases of Covid-19 and nearly 10,000 deaths.
"Lion Air and other operators are intending to negotiate PBH agreements with some lessors. Obviously it will cause huge losses for lessors with this unfair situation," says a second lessor with exposure to Lion.
"At this stage, I do not believe that lessors could accept [PBH agreements], with uncertain direct losses [resulting]."
A third lessor with exposure says his company has never before provided a PBH arrangement for its lessees.
PROS AND CONS OF PBH AGREEMENTS
While a PBH agreement would offer more cash flow than a rental deferral, during which no rent would be paid, lessors may still be reluctant to accept Lion's offer.
Versus a normal operating lease, from which a lessor receives a regular monthly payment, there is no advantage to a lessor to agreeing to a PBH agreement, says Rob Watts, chief executive of Aerotask, a company with experience arranging PBH agreements.
However, compared with a deferral, where no rent will be received for an agreed period, whether a lessor should accept a PBH becomes more complicated.
At the start of the Covid-19 crisis, airlines were agreeing to deferrals whereby the deferred rents were being repaid in an amortised amount built into the lease rate when the deferral stopped, Watts says.
But as airlines have come under increasing stress amid the prolonged pandemic, some have been asking for PBH agreements instead, he says. In that kind of agreement, lessors can "just forget about" ever being compensated later for any gap between the PBH and the actual lease rental.
Airlines, he adds, are in a good bargaining position, given the difficulties lessors will have with placing aircraft elsewhere in the market.
In one particular deal Watts observed, the lessors were "playing hardball" during negotiations, so the airline just told it to take the aircraft back.
"And that's basically what caused the lessors to cave, because no one wants to take back an aircraft now," he says.
TIME TO PLAY BALL?
Lion's dozens of lessors are weighing up how best to respond to the recent PBH ask.
"There are a lot of different messages in the market right now about how people are thinking about it," says a fourth lessor with exposure to Lion.
"Some lessors are taking a more hardline approach and want to try to push for getting as much payment as possible as their starting negotiating position, and some are more willing to play ball if they are getting some pressure themselves from their lenders."
Asked whether his company is willing to accept Lion's PBH request, he says it is a question of "whether the economics make sense".
"I think most lessors want to support the group to the extent they can but the numbers can't be just completely out of whack with reality, the airlines financial situation or the broader trend. We are trying to make some sense of it to come up with an appropriate response."
Fortunately for these lessors, there are things they can negotiate to help ease the potential pain of a PBH.
"You can probably throw in lease extensions, things like that," says Aerotask's Watts.
"You can extend the lease term at rates that would be better than when you would remarket it. Say a new narrowbody you leased for $350,000, when you take it back and re-lease it to the next operator it might be $200,000. If you can extend for two years at $350,000, even if you've lost two years through the PBH, you're getting some type of benefit."
He adds that as the Covid-19 pandemic wears on, PBH requests seem to be getting longer.
"Like with Lion Air, the PBH period seems to be getting bigger and bigger and bigger in terms of what's being asked for with airlines. Going from a three-month deferral to a six-month PBH, then 12-month, now 24-month," he says.
A fifth lessor with exposure to Lion says he would not agree to a PBH agreement "absent some other quid pro quo like lease extensions, for example".
Earlier in the crisis, lessors told Cirium they are willing to extend a helping hand to those carriers that look as though they have a decent chance of surviving the pandemic. This seems to hold true with Lion Air.
Unlike certain other carriers in the region, lessors say Lion has the potential to make it through this crisis.
"People, myself included, do believe that Lion Group is going to be a regional winner out of the crisis," the fourth lessor with exposure to Lion says.
"Lion's prospects are still relatively positive versus those [other] carriers [in the region], so it's not a hopeless situation either – and they know that."
Ascend by Cirium's Kaplan says: "Lessors and airlines have a symbiotic relationship. If lessors let their airlines die by being inflexible, it hurts them too."
Analysis by Michael Allen of Cirium