Airbus's development of an A320 successor, to enter service from 2033, and the design of a highly-efficient regional aircraft are among the target projects outlined by the French government as it unveiled a €15 billion aid package for the aeronautical sector.
The government's aeronautical support plan stresses that French must "preserve" its share in the creation and production of the next generation of aviation, and that it will concentrate "very significant" resources on research into low-carbon aircraft as well as modernisation of production lines.
Research and development employs nearly 35,000 personnel in France, the government states, and nearly a third of these are threatened by the aeronautical crisis.
Its plan aims to transform the aeronautical sector in order to "master" the integration of "disruptive" environmental technologies into aircraft within a decade, through the specialist knowledge of Airbus and Safran.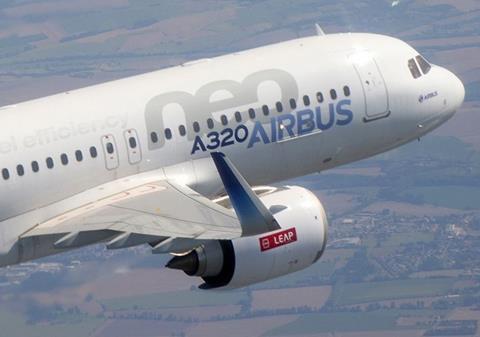 The strategy will lay groundwork for an environmentally-friendlier successor to the A320, with research focusing on a 30% improvement in fuel consumption and a full biofuel capability as well as the potential of zero-emission hydrogen-based technology.
This successor, it says, could take the form of an initial demonstrator around 2026-28 and enter service between 2033-35.
"[It] will define new global standards for airliners in environmental terms," says the government's plan.
The government has also outlined the creation of a new highly-efficient regional aircraft – using either hybrid electric or hydrogen technology – to enter service around 2030, following a demonstrator in 2028.
Airbus Helicopters' H125 would also be in line for a replacement, in a similar timeframe, that offered a 40% reduction in fuel burn with the option of electric hybridisation and hydrogen power.
The plan also indicates that new business aircraft, high-performance drones, and – from 2025 – optimisation of air traffic operations will be part of the research strategy.
It states that the acceleration of research and development spending will cover the entire French aerospace sector, with a particular focus on the Occitanie and Nouvelle-Aquitaine regions, in the south and south-west of the country, and their small and medium-size enterprises.
As part of this particular arm of the overall plan, Airbus and Safran, along with Dassault and Thales, will contribute to a €1 billion aeronautical investment fund – under a joint scheme with the government and investment bank Bpifrance – to provide equity to smaller companies and support restructuring, refinancing or mergers.
"This support will be essential to enable them to invest in the ecological transition after the end of the crisis," the government says.
Some €500 million of this funding will be available from July. The government, through Bpifrance, will initially put in €200 million.
Airbus will contribute €116 million while Safran's share will be €58 million. Thales and Dassault will each put in €13 million. A fund manager and other investors will make up the balance.
This preliminary funding of €500 million will be expanded to the full €1 billion over time, through a mix of debt and equity.
Alongside this €1 billion investment fund the government is to establish a separate €300 million financing scheme, over three years, for modernising industrial processes.
This fund is intended to support business transformation including the introduction of robotic production lines in machining and electronics, as well as retraining programmes.