Air France Industries KLM Engineering & Maintenance (AFI KLM E&M) is hopeful of returning to pre-pandemic operating profits by 2024, even as it flags the threat of global supply chain issues.
Speaking at the Paris air show, executive vice-president of the Franco-Dutch MRO provider Anne Brachet acknowledges that while it was the only profitable unit in the wider Air France-KLM Group amid the pandemic, it has been affected by costly and "unpredictable" supply chain woes.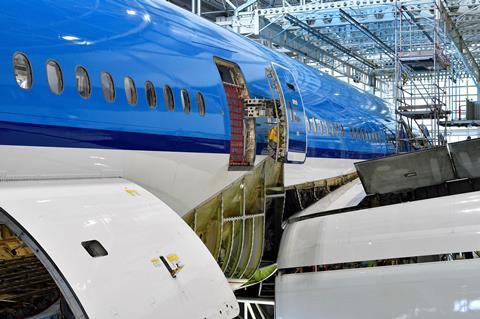 The firm posted an operating profit of €15 million ($16.4 million) in the three months ended 31 March, lower than the year-ago period.
By comparison, in the first quarter of pre-pandemic 2019, it was €47 million in the black at the operating level.
Supply chain issues are among the four near-term trends Brachet raised, with the others being geopolitical uncertainties – especially with the ongoing Ukraine crisis – inflation, as well as a push for sustainability in the sector.
Brachet says the MRO company is "trying to manage" these issues, even having to "innovate" in some instances. "We also drive up our adaptive [maintenance] solutions to mitigate the current situation," she adds.
The MRO provider signed a raft of agreements for component, APU and engine support at the show:
Reunion-based Air Austral signed a contract with AFI KLM E&M unit Epcor for the maintainence of its A220 APUs. The agreement covers the carrier's fleet of three aircraft, and includes repair and servicing. It also comes after the airline signed with the MRO provider for A220 component support.
JetBlue has become the MRO provider's first North American customer for A220 component support. The agreement covers more than 200 components, with AFI KLM E&M providing repairs, on-site stocks, as well as inventory access.
French cargo operator CMA CGM Air Cargo has signed engine and component support contracts for 777Fs and A330Fs. The agreement covers two 777Fs which CMA CGM took delivery of in May and June 2022, and sees AFI KLM E&M provide component support for repairs and parts pools access. The MRO provider will also provide engine repairs and on-wing services for the 777Fs.
Chinese cargo carrier SF Airlines has renewed a contract for engine heavy maintenance for GE Aviation CF6 powerplants, which power its 767 and 747-400 freighter fleet.