Airbus and Safran have finalised the acquisition of specialist materials supplier Aubert & Duval, a year after disclosing that they were seeking to take over the loss-making firm in order to reinforce the aerospace supply chain.
Previously owned by French minerals and metals company Eramet, the subsidiary specialises in strategic critical parts to various precision industries.
Eramet had signalled on 27 April that the conditions for the sale had been fulfilled, and Airbus and Safran have jointly confirmed the finalisation.
"Completion of this acquisition represents a crucial step towards the creation of a leading European player in critical parts and materials," says Airbus chief Guillaume Faury.
He says the agreement will reduce geopolitical risks of supply, and points out that the company's capabilities not only include steels and superalloys but also, more recently, titanium expertise.
Aubert & Duval has been loss-making for the past few years, after the company experienced logistics issues in 2019 and then – with 70% of its activity focused on aerospace – was badly affected by the onset of the pandemic the following year. It also suffered a fire at its Pamiers plant in September 2021.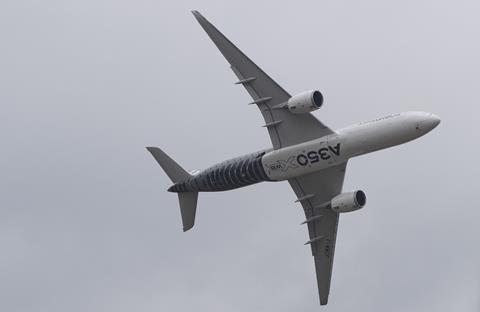 Over the full year 2022 the subsidiary generated an EBITDA loss of €47 million ($52 million) on turnover of €553 million, which Eramet attributed to higher energy and raw material costs.
Eramet stated last year that the divestment transaction for Aubert & Duval would be based on an enterprise value of €95 million.
Airbus and Safran have not detailed the terms of the acquisition, but the takeover consortium also includes Tikehau Capital as a financing partner.
Faury says Airbus will fully support Aubert & Duval as it undertakes an "ambitious" transformation plan, while Tikehau Capital private equity chair Marwan Lahoud – Airbus's former chief strategy officer – says it will be "aiding the company's recovery".
Aubert & Duval employs around 3,700 personnel, primarily in France. Following the acquisition the company will be led by Bruno Durand, who previously held several high-profile positions at Safran, particularly roles connected with the engine supply chain.
Safran chief Olivier Andries, recently speaking during the company's first-quarter briefing, said: "There's going to be a significant amount of capex and investing to be done [in Aubert & Duval] in the years to come. We are talking three-digit numbers for capex."
The three consortium partners will equally fund the investment.
"Obviously there is going to be a cash-burn in the years to come because we need to invest to recover the performance," Andries adds.
He says the acquisition will ensure "European sovereignty" of strategic programmes for civil and military engines, and "secure" the supply chain for crucial parts.
"I am confident the new team will carry through the transformation project to get this leading French industry player back on track," he states.
France's government will retain a golden share in Aubert & Duval to protect strategic interests.