Airbus chief executive Guillaume Faury believes its single-aisle duopoly with Boeing could transform into a three-way competition by the end of the decade if China progresses strongly with its Comac C919.
Speaking during the Atlantic Council EU-US Future Forum on 6 May, Faury said such a development was "not an unlikely scenario".
Comac has secured substantial domestic orders for the C919 although the aircraft has yet to enter service.
"It's still difficult to say at what stage and what level of competitiveness Comac will be able to introduce the [C919] in the market," says Faury.
"We believe they will start with China, because the Chinese airlines are state-owned companies and it's easier to do it. It takes a lot of time to demonstrate the maturity of a product, to make it reliable, trusted, and economically viable.
"But we believe it's not unlikely [that] on the single-aisle, by the end of the decade, Comac will have taken a certain share of the market."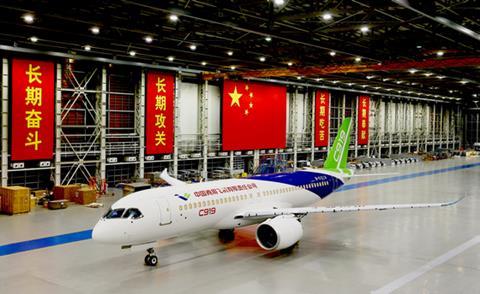 The C919 will compete in the same sector as the Airbus A320neo, and uses the CFM International Leap-1C engine – a version of one of the A320neo's powerplant options.
Faury says China has been an important market – accounting for some 20% of Airbus deliveries last year – but will "progressively come with domestic products".
"It will start slowly, probably reaching at the beginning only the Chinese airlines. But we believe this will progressively become a decent player," he says.
"So we will grow probably from a duopoly to a 'triopoly', at least on the single-aisle, by the end of the decade."