Airbus estimates that 7,500 personnel remain subject to the manufacturer's restructuring plan, which involves substantially reducing its workforce, particularly in the air transport sector.
The airframer says that, as of 31 December 2020, these included some 6,100 personnel in the commercial aircraft division.
Airbus originally intended to cut around 15,000 positions – mainly in Germany, France, the UK and Spain – by summer 2021 when it unveiled the restructuring in June last year.
"Working time adaptation and mitigation measures supported by the governments have reduced the number of positions subject to the restructuring plan," it says.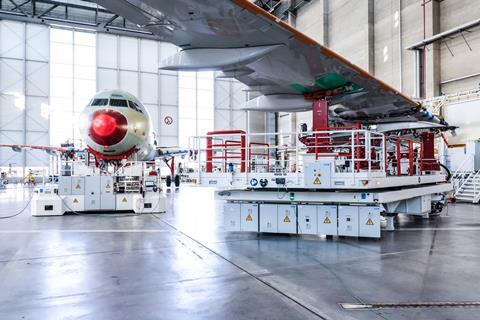 Chief financial officer Dominik Asam says about 11,000 workers will be affected with some 3,600 already having left.
He points out that government measures have meant about a third of the employees are essentially paid by the state, enabling the company to "keep people without their being on the [profit-and-loss account]".
Asam says the manufacturer expects to see the benefits of the workforce reduction in 2022.
Airbus chief executive Guillaume Faury says the company is "on track with the social plan", but that it has involved a "lot of negotiation".
"We've seen already a third of the people who are supposed to leave the company leaving by the end of 2020," he says.
Plans presented to employee representatives initially foresaw the reduction of 1,900 defence and space positions by the end of 2021, but this has been reduced to 1,400.
Airbus says it recognised a €1.2 billion restructuring provision at the end of its third quarter, to account for the company's estimated cost of voluntary and compulsory measures.
At the end of 2020, it says, the provision amounted to €1 billion, having been reduced by fourth-quarter costs.