Airbus has warned that it is likely to require a provision of up to €1.6 billion ($1.9 billion) to account for restructuring once firm agreements are reached with its social partners.
The airframer disclosed in June that, in response to the air transport crisis and the scaling-back of commercial aircraft production, it would reduce its workforce by 15,000 positions by next summer.
"Details of this…adaptation plan need to be finalised with social partners," says Airbus, adding that it is trying to avoid resorting to compulsory redundancies.
It is aiming to reach agreements for implementation in autumn.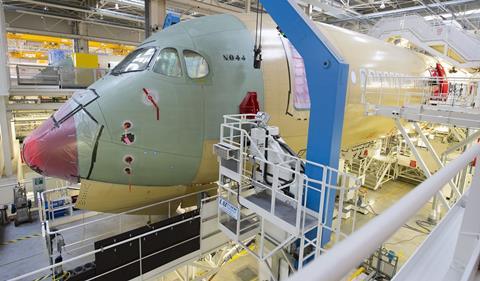 Airbus states in its first-half financial disclosure that its defence and space division has also entered a consultation on a restructuring which envisions a reduction of 1,900 positions to the end of 2021 compared with March this year.
Chief financial officer Dominik Asam says the associated costs of all these restructuring measures will amount to €1.2-1.6 billion, for which no provision has yet been recognised in the company's accounts.
The commercial aircraft cuts include some 5,000 positions in each of Germany and France, plus 1,700 in the UK and 900 in Spain.
Airbus has cut its single-aisle output to 40 aircraft per month, and chief executive Guillaume Faury expects it to remain around this level for at least another year.
But he insists that the recovery is "not a question of if, but only when".
The A320neo-family lines will lead the Airbus ramp-up during this recovery, he says, and the airframer is trying to predict the point at which to start lifting production back towards 50 aircraft or more. But Faury says this "won't happen" before mid-2021.
Reduction of single-aisle rates, he adds, has eased the pressure on A321neo production, the complexity of which had been causing industrial workflow problems and delays.
Efforts last year to resolve the issues and the subsequent slowing of output "puts us in the situation of no longer having bottlenecks", says Faury. "That's behind us as long as we're in the low rates."