Airbus has formally inaugurated a new A320neo-family final assembly line at its Toulouse manufacturing facility, which will support the airframer's single-aisle ramp-up strategy.
The assembly line will be capable of producing variants including the A321neo, which has recently become the most-ordered aircraft variant in Airbus's range.
It has already commenced work on constructing the first aircraft – which will be an A321neo – following fuselage section delivery last year.
The airframer expects to roll out this initial twinjet by the end of this year.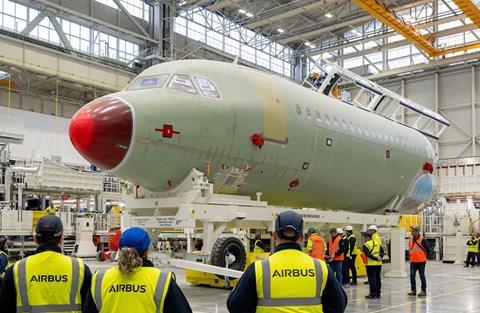 Airbus is aiming to reach A320neo-family output of 75 aircraft per month in 2026. The A321neo accounts for around 60% of the backlog across this family.
Chief executive Guillaume Faury says inauguration of the line is "another milestone" in the company's industrial system modernisation.
Airbus is expanding to 10 assembly lines for A320neo-family jets, all of which will be A321neo-capable. Alongside the two in Toulouse and four in Hamburg it will have two US lines in Mobile and two Chinese lines at Tianjin.
Several French ministers were among those attending the Toulouse inauguration ceremony. The line is located in the building formerly used for A380 assembly before Airbus ceased production of the type.
Airbus says the new line includes a "variety of innovations" including digital production control via smartphones and tablets, automated logistics, and lightweight robots for section join.