Airbus has reached a provisional agreement with German representatives over future operations at its Bremen plant, alleviating concerns dating back three years that long-haul aircraft wing work would be withdrawn from the facility.
The agreement, signed on 9 February, centres on ensuring future viability of the site.
Under the plan Airbus will manufacture a "large part" of the production demand for A321neo inner flaps at Bremen from 2025, absorbing employees who were working on A330neo wing systems – work which will shift to the UK's Broughton wing plant.
Bremen will retain its A350 wing work, and will become a "competence centre" for high-lift structures on wings.
"Talks and negotiations of the last few months have paid off," says Bremen senator for economics and labour Kristina Vogt. "Important jobs will be preserved for our location in the long term."
Bremen carries out installation of high-lift structures – such as flaps – but Airbus had indicated in 2020 that it intended to transfer certain work packages out of the facility, with no plans to substitute them.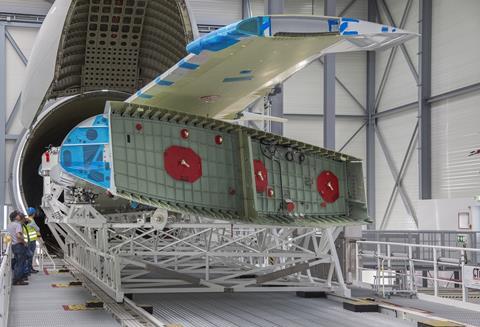 The measures led to strong objections from personnel, and rejection of a proposals to replace A330 and A350 wing work with a component repair facility. Political figures became involved, including then-finance minister Olaf Scholz, who would subsequently become German chancellor.
Local union IG Metall Bremen, which represents various manufacturing staff including aerospace workers, says Airbus signalled willingness to make concessions – including offering a suitable substitute for wing work – in the second half of 2021, and discussions continued for another year before a joint plan emerged in July 2022.
This plan has formed the basis of the newly-signed key-points agreement. IG Metall Bremen says the agreement is "the result of a lengthy and hard-fought dispute" over relocation of the wing work and "loss of core competence" at Bremen.
It adds that, as a result, the "conflict" appears to be "coming to an end".
But the union stresses that Airbus employees still have to grant final approval to the plan, and that works councils will be "busy" over the next few weeks providing staff with comprehensive information.
IG Metall Bremen managing director Ute Buggeln says the key-points paper demonstrates the workers' success in "not leaving the future of our operations solely to companies".
If the plan is implemented in full, Bremen will remain a site for operations for Airbus's high-capacity Beluga logistics transport fleet. Establishment of the competence centre will provide design, test, production and repair work for current and future programmes, while Bremen's share of single-aisle activity is "significantly increased", the union states.
Although A330 wing work will be relocated, and Broughton's involvement means Bremen's "uniqueness" is lost, the union says an increase in A350 production rates will help to minimise the impact on jobs.
Senate president and mayor of Bremen Andreas Bovenschulte says the agreement will "significantly strengthen" the future of civil aircraft manufacturing in the city. Airbus employs around 4,100 personnel at Bremen, with 2,100 involved in aircraft manufacture.