Airbus chief executive Guillaume Faury says the airframer is striving restore the profitability of its ATR venture, as the regional aircraft manufacturer marks 40 years since its creation.
Faury tells FlightGlobal that ATR – founded on 4 November 1981 – has been a "performing" entity but one which has "suffered a lot" since the onset of the air transport crisis.
ATR made a full-year loss from continuing operations of €138 million ($159 million) in 2020, compared with a €106 million profit in 2019, as deliveries sank from 68 to just 10 aircraft last year.
It also took net orders for a single aircraft, in contrast to the previous year's 48, taking its backlog to 176.
The manufacturer is equally-owned by Airbus and Italian aerospace firm Leonardo.
"It's an asset we like, an asset which contributes to the overall result of the group," says Faury. "It's close to what we are, and what we do.
"The priority now is to put it back on track after Covid. That's the short-term priority."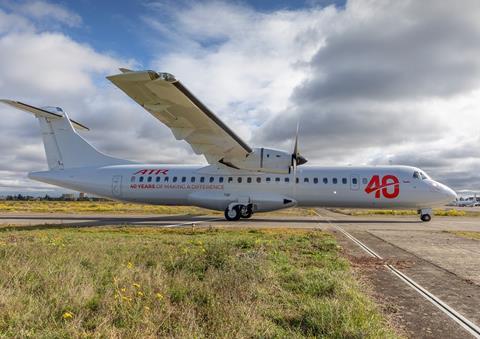 ATR has sold some 1,700 aircraft over the course of its four-decade existence, outperforming the initial business case for a "few hundred" aircraft, says the company.
Its ATR 72-600 and 42-600, the latest variants of its passenger turboprops, have recently been complemented by the development of a 72-600 freighter.
ATR aims to deliver a short take-off and landing version of the 42-600 by 2025 which, it says, will "open up connectivity" to around 500 more regional airports.
By the middle of the decade, the manufacture also wants its aircraft to be capable of operating on 100% sustainable aviation fuel.
"Our story is one of innovation and progress. Over four decades, we have brought connectivity and economic opportunity to remote regions across the globe," says ATR chief Stefano Bortoli.
"We will support our customers by providing them with the latest available technologies, paving the way for zero-emission aviation by 2050."
Faury says: "There's not much on the radar scope in terms of competition for ATR aircraft. We like this partnership and we want to see it prospering."
While he points out that the company has to rely on "existing products" to claw its way out of the crisis, Faury says ATR and Airbus – both headquartered in Toulouse – hold discussions on technological developments, and ATR is looking "carefully" at Airbus's thinking on hydrogen-fuelled concepts.
Faury does not rule out ATR's becoming more closely involved with hydrogen schemes, although he says hydrogen is an "Airbus initiative" and the "primary objective" of its work on hydrogen "will be centred on Airbus aircraft".