Airbus has unveiled the next phase in its development of electric air mobility solutions with the unveiling of the CityAirbus Next Gen.
Speaking at the Pioneering Sustainable Aerospace summit hosted by Airbus in Toulouse today, Airbus Helicopters chief executive Bruno Even says it aims to fly the prototype form in 2023.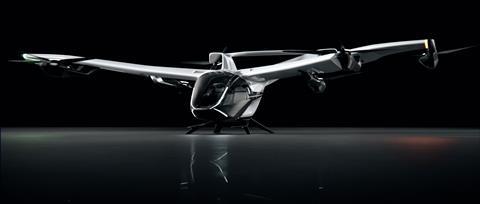 Jeorg Mueller, head of UAM at Airbus, adds: "Our fully electric, 4-seater is designed as our answer to the UAM (urban air mobility) market."
Learnings from two flight demonstration programmes – the original CityAirbus and its Vahana electric VTOL aircraft – converged to create CityAirbus Next Gen.
As the "emerging UAM market begins to firm up" Airbus is betting that by the time it has flown and certified its prototype, which it is aiming for as early as 2025, this "innovation" project can move into series production.
Even says it will be certified under the special EASA SC-VTOL Enhanced Category.
"We have learned a lot from the test campaigns with our two demonstrators, CityAirbus and Vahana", says Even. "The CityAirbus NextGen combines the best from both worlds with the new architecture striking the right balance between hover and forward flight."
The fully electric vehicle is equipped with fixed wings, a V-shaped tail, and eight electrically powered propellers as part of its distributed propulsion system. It is designed to be a zero emissions aircraft with a range of 80km and a cruise speed of 120 km/h. This will make it suited for operations in major cities, says Airbus.
The transition of the CityAirbus Next Gen prototype into a production aircraft will depend on how fast the UAM market develops. "It is a market that could be larger than the existing helicopter market today. But the challenge is when?" says Balkiz Sarihan, head of UAM strategy execution & partnerships at Airbus.
Airbus declines to publicly offer any forecasts on market size because there are still many unknowns on such a fledgling technology and opportunity. "We are on a quest to co-create an entirely new market that sustainably integrates urban air mobility into the cities while addressing environmental and social concerns," says Even.
"Airbus is convinced that the real challenges are as much about urban integration, public acceptance, and automated air traffic management, as about vehicle technology and business models. We build on all of the capabilities to deliver a safe, sustainable, and fully integrated service to society."
Airbus is committed to building the CityAirbus Next Gen, with the prototype already under construction. Sarihan says the first applications for eVTOLs will be for emergency services or services to remote locations, rather than in urban Uber-style taxi-on-demand operation.
Beyond the vehicle, Airbus says it is working with partners, cities, and city inhabitants in order "to create the ecosystem that is essential to enabling this new operating environment to emerge in a true service to society".