Airbus's delivery figures for January were unusual because, as a result of the air transport crisis, the majority of aircraft were handed over from its non-European final assembly lines.
The airframer has five sites with assembly lines – in Toulouse, Hamburg, Tianjin, Mobile and Montreal – with the two European sites responsible for most single-aisle and all twin-aisle assembly.
But the disruption to production and demand, especially within the long-haul sector, is reflected in reduced Airbus output.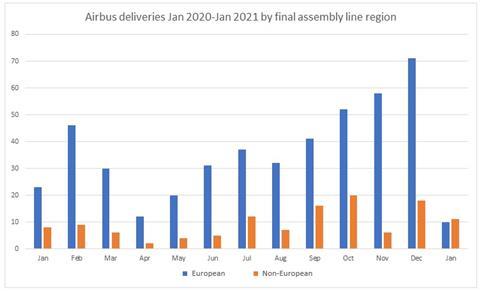 The airframer handed over 21 aircraft in January but only 10 were delivered from the French and German lines – five from each – according to Cirium fleets data.
Six aircraft were delivered from the US plant at Mobile, three from the Chinese plant at Tianjin, and two from the facility at Montreal Mirabel.
The airframer's deliveries in January comprised three A220s, 16 A320-family jets, plus a single A350 and single A330neo.
Airbus has not indicated whether any aircraft had to be parked in January as a result of delivery disruption following the re-introduction of pandemic-related travel restrictions.