Airbus has formally opened a facility in Hamburg for equipping the aft fuselage sections of the new long-range A321XLR.
The sections – around 24m in length – will be fitted with various electrical and mechanical systems, floor panels, windows and other features.
Airbus says they will travel on an automated pulse line comprising eight stations in the new hangar facility, known as building H259, enabling up to eight fuselage sections to be fitted simultaneously.
The aft sections of the A321XLR have been designed to accommodate the large rear fuel tank and associated systems which will give the twinjet its long-range capability.
Once the fuselage sections have been completed and tested in the facility, they will be transferred to the Hamburg Finkenwerder final assembly line.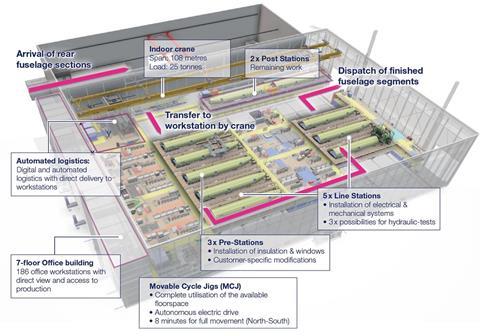 Airbus expects the A321XLR to enter service in the second quarter of 2024.
"The hangar is equipped with a full range of state-of-the-art technologies for operations and manufacturing, such as automated logistics, fully digital systems, and test stations that can output the status of each fuselage section – both in terms of logistics and resources – at any time," says the airframer.
Airbus is intending to ramp-up production of A320neo-family aircraft to 75 per month in 2026, and has been modernising and digitalising its industrial systems to support this rate rise.
"With our new, state-of-the-art equipment installation hangar, we are now expanding our capacity to manufacture A321 fuselages and making an important contribution to supporting our ramp up," says Airbus head of German commercial aircraft production Andre Walter.
Airbus adds that the working stations in the facility have been developed in consultation with employees, while the structure is designed to meet sustainability aims.