Airbus has shifted the ramp-up target for A320neo production, pushing back the timeline for achieving 65 aircraft per month to early 2024.
It amounts to a six-month deferral from its original aim to reach this rate in summer 2023.
The airframer says it is making adjustments to its ramp-up trajectory, in response to supply-chain issues, but insists its plan to hike the monthly output to 75 aircraft in 2025 remains unchanged.
Airbus has also trimmed its delivery forecast for this year, reducing it from 720 to 700 commercial aircraft, as a result of the difficulties.
But the company is looking – along with its suppliers – at the feasibility of increasing production of twin-aisle aircraft to meet growing demand, in line with signs of recovery in international air transport markets.
Chief executive Guillaume Faury, speaking as the company unveiled a "solid" half-year performance, said the operating environment remained "complex" with geopolitical and economic circumstances creating "further uncertainties" for the aerospace industry.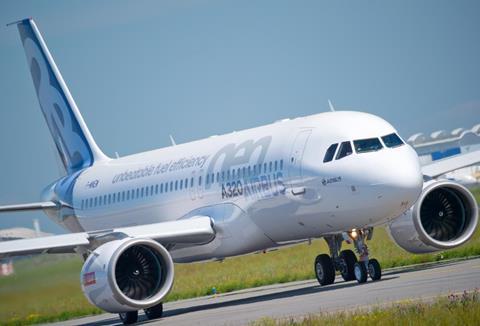 Airbus's commercial aircraft division generated stable adjusted earnings of €2.27 billion ($2.3 billion), even as revenues slipped slightly to €17.5 billion.
The figures include a positive one-off impact from retirement obligations, partly offset by the effects of international sanctions on Russia over the Ukrainian conflict – although Airbus says it made "good progress" on remarketing some of the affected aircraft.
It delivered 297 aircraft over the first half of the year, including 29 A350s, 13 A330s, 230 A320-family jets and 25 A220s.
The backlog for the A320neo family remains strong and is a driver behind the airframer's plans to raise output.
"Airbus teams are engaged with suppliers and partners to ramp up towards an A320-family monthly production rate of 75 in 2025, backed by strong customer demand," says Faury.