Airbus-Safran space launch venture ArianeGroup has conducted a proof-of-concept test of hydrogen conditioning which would be suitable for feeding an aircraft engine.
The test, carried out on 12 May at the Vernon facility northwest of Paris, marks the conclusion to a project named Hyperion which looked at hydrogen propulsion options for commercial aviation.
It re-used equipment initially intended for the spaceflight industry, including gas generators, exchangers, and electric pumps.
"When we started this journey we knew it was possible to provide hydrogen for space applications," says Airbus zero-emission aircraft vice-president Glenn Llewellyn, adding that hydrogen has also previously been used for ground transportation.
"But for commercial aviation applications we know the requirements are very different," says Llewellyn. "We had to set about designing a safe, certifiable, performing fuel-distribution system for [aircraft]."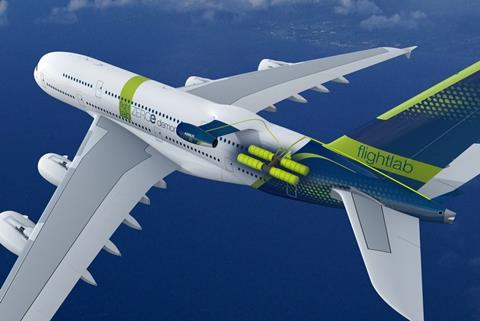 Airbus had to "accept a certain amount of humility", he adds, because it did not have the expertise in hydrogen use that its launch-vehicle venture had accumulated. Hyperion has worked to develop a hydrogen aircraft fuel system, examining such aspects as pressure and pumping requirements while maintaining a high level of safety and redundancy.
"It's really key for us to have done that work, to put a stake in the ground to say we have something which looks like it's feasible, and allows us to build on that for the next steps," says Llewellyn.
Hyperion, which commenced at the end of 2020, has confirmed the potential of hydrogen as an energy source for civil aviation decarbonisation.
Its work has included examining the whole process of fuel transfer from tanks to ignition and exhaust, capitalising on experience gained from developing Ariane launch vehicles, in which liquid hydrogen is conditioned to optimum pressure and temperature for engine combustion.
ArianeGroup chief Martin Sion says the collaboration has enabled the companies to identify the "most promising" propulsion system architectures, and the technologies to be developed over the next five years.