Airbus is linking with alternative fuels specialist LanzaJet to accelerate certification and take-up of 100% sustainable fuels, to eliminate the need for fossil-fuel power on current aircraft types.
The co-operation will also support the establishment of sustainable fuel facilities which will use LanzaJet's alcohol-to-jet technology.
LanzaJet's process involves low-carbon ethanol which is dehydrated to ethylene, and then used to form longer carbon-chain molecules, during which a refinement procedure enables the production of either jet fuel or diesel.
Airbus says the process generates sustainable fuel that cuts emissions by more than 70% compared with fossil fuels, and overall emissions can be trimmed further with the use of carbon-reduction technology.
This alcohol-to-jet process and the resulting drop-in fuel produced are already approved as being compatible with current fleets and infrastructure.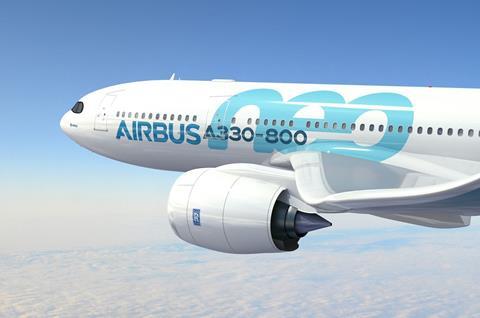 Airbus's new agreement with LanzaJet – the subject of a memorandum of understanding – will "advance" the building of facilities to use the process. The co-operation also intends to bring forward "certification and adoption" of the drop-in fuel.
"We are committed to supporting sustainable aviation fuel as a major lever in the reduction of carbon dioxide emissions on the decarbonisation roadmap," says Airbus corporate affairs and sustainability executive vice-president Julie Kitcher.
She says the co-operation will support advancement of fuel production "at scale".
LanzaJet chief Jimmy Samartzis adds that the agreement is an "important step" given that sustainable fuel is the "best near-term solution" to cutting aviation emissions.