Airbus is to hold an auction of A380 components in summer, to raise funds for its charitable and humanitarian-support arm.
Most of the parts in the auction – which will run from 23-25 June – will be sourced from MSN13, one of the early Engine Alliance GP7200-powered A380s delivered to Emirates.
It was handed over to the Dubai-based carrier in October 2008 and operated as A6-EDB, before being withdrawn in 2020 and dismantled by Tarmac Aerosave.
Airbus says the components for the auction have been selected for "technological and often aesthetic interest".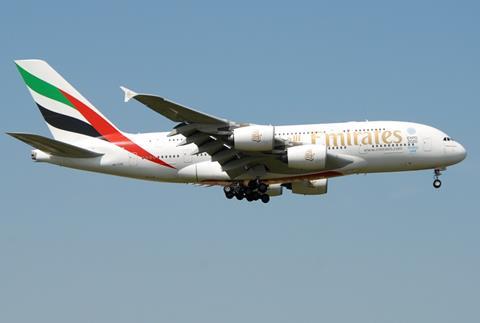 They will include nearly 500 items, mainly from the cabin, including lamps, bars, seats, trolleys, handrails and stairs. The list will also include the escape rope for the cockpit.
Some lots, including a number of business-class seats, will be taken from other A380s.
Airbus delivered the final A380, also to Emirates, at the end of last year. While the type remains in service, the airframer says the auction will be a "tribute" to the aircraft.
Proceeds will be donated both to the Airbus Foundation – which specialises in supporting humanitarian, environmental and youth development activities – as well as the Airitage aerospace heritage association.