Airbus is to pursue the manufacture of cryogenic tanks for hydrogen-based propulsion through the establishment of two development centres in Germany and France.
The zero-emission centres – located in Bremen and Nantes – will aim to achieve "cost-competitive" tank manufacturing in support of the airframer's 'ZEROe' programme, under which it is analysing various concept aircraft.
Both centres will be operational by 2023 and Airbus says it aims to carry out flight-testing of liquid-hydrogen tanks in 2025.
Each site has particular relevant specialisations. The Bremen facility has links with the Ariane launch vehicle programme, and experience with liquid hydrogen, and the new centre will concentrate on system installation and cryogenic tank testing.
"Design and integration of tank structures is crucial to the performance of a future hydrogen aircraft," says Airbus, pointing out that liquid hydrogen demands storage temperatures as low as 20 Kelvin at atmospheric pressure.
"Liquidity is needed for increased density. For commercial aviation, the challenge is to develop a component which can withstand repeated thermal and pressure cycling."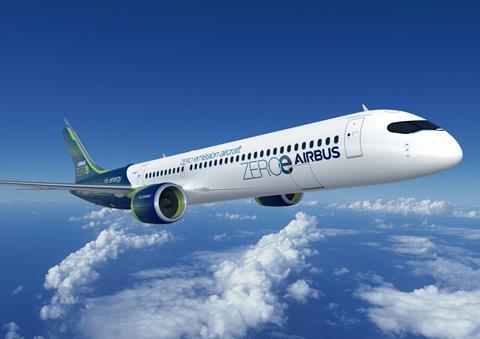 The French site at Nantes has metallic and composite structural capabilities including experience with centre wing fuel tanks for commercial aircraft.
Airbus says each will benefit from the local presence of other related establishments, including the Centre for Eco-Efficient Materials and Technologies, near Bremen airport, and Nantes' Jules Verne industrial research centre plus Airbus's own Nantes Technocentre.
"The technology developments will cover the full product and industrial capabilities," says the airframer – from elementary parts to assembly and testing.
Airbus expects near-term tank structures for commercial aircraft will be metallic. But it says composite structures potentially offer "high" performance.
Chief executive Guillaume Faury, speaking during the Airlines for Europe Aviation Summit on 10 June, reiterated his previous claim that entry into service of the first hydrogen-fuelled aircraft could be achieved by 2035.
"For the moment we're sticking to that plan. There's a lot of work that is converging to make that possible," he said.
"There are challenges on the aircraft itself. We need to work on technologies which are not very mature today. They're applied in other businesses, but need to be matured for aviation.
"But it's not unlikely we'll be ready for the technologies by 2025 and then be ready to launch an aircraft."
Faury acknowledged other hurdles, including regulatory alignment and the need to provide sufficient decarbonised fuel to justify investments. "But honestly, at the speed things are changing at moment, I'm more and more optimistic every day," he said.