Airbus is aiming to integrate a laser-based communications demonstrator on an aircraft for flight testing by the middle of next year.
The project, known as UltraAir, is intended to demonstrate high-speed data rate communications with geostationary satellites.
Airbus and the Dutch applied scientific research organisation TNO will jointly design and test the system which, the airframer says, will offer "unprecedented" transmissions in the range of gigabits – billions of data bits – per second.
Laser-based systems use frequencies outside the normal radio spectrum of conventional satcom, which is becoming increasingly congested.
TNO says narrow-beam laser communication is less susceptible to interference and interception, providing data security and resilience.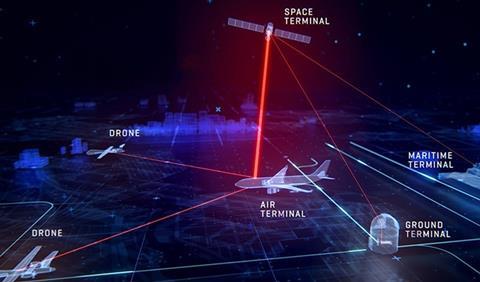 Airbus says the proposed communications technology could eventually provide rapid data connections for airline passengers "in the longer term", through the SpaceDataHighway partnership between Airbus and the European Space Agency.
This partnership already uses laser-based terminals mounted on Earth-observation satellites to transmit large volumes of data, in near-real time, to European monitoring centres. Operation of the laser connections is controlled from an Airbus base at Munich.
While UltraAir could have commercial airline prospects, its potential for rapid anti-jam communications will appeal to the military and operators of unmanned aerial vehicles.
TNO says laser terminals using stable precision optics can be manufactured to be lighter and more energy-efficient than radio systems.
Airbus will co-ordinate the ground and airborne testing of the demonstrator with the support of its satellite communications subsidiary Tesat.
Tesat will host laboratory tests of the system at the end of this year.
The project will progress to a ground test in Tenerife in early 2022, connecting the UltraAir demonstrator to the laser terminal on a geostationary Alphasat satellite.
Alphasat, operated by Inmarsat, carries a laser communications demonstrator payload capable of handling 1.8Gbits/s and has previously been used for precision connection tests with the ESA's Tenerife ground station.
"For the final verification, the UltraAir demonstrator will be integrated on an aircraft for flight testing by mid-2022," says Airbus.
UltraAir is part of the ESA's laser communication programme ScyLight and is co-financed by Airbus and TNO as well as the Netherlands Space Office.