Airbus is preparing to conduct a destructive test of an experimental wing as part of a technologies initiative, as it opens a new facility at its UK site in Filton dedicated to future wing research.
The facility – known as the Wing Technology Development Centre – will focus on constructing and testing demonstrators for various aerospace projects including the airframer's Wing of Tomorrow programme.
Wing of Tomorrow is examining a variety of new technologies which could be incorporated into lightweight low-drag wings, with broader spans and higher aspect ratios, to improve performance and fuel efficiency. It also seeks to determine whether such technologies can be introduced at sufficiently low cost and applied to high rates of aircraft manufacture.
Airbus Wing of Tomorrow head Sue Partridge, speaking in Filton during a 3 July briefing ahead of the facility's formal opening, said the centre would focus on next-generation wing technology, and "leverage" the site's broad engineering and test work.
"[It's a] coming-together of the end-to-end capabilities," she says, adding that the centre will "help us to ground our research in practicality".
Partridge says the experimental wing newly delivered to the facility is the second created under the Wing of Tomorrow programme. An initial wing, completed last year, is located at the Airbus plant in Broughton and used for modular assembly and integration work, and a third is set to be assembled by 2025 to test the rate capability of the selected technologies.
Filton's wing, the only one of the three to be sent to the facility, will be used for structural analysis of its composite components, including its primary sections and fasteners, and ultimately validation of strength and failure calculations.
Partridge states that the experimental wing is not a fixed design for a next-generation Airbus aircraft, but rather an "out-of-cycle" platform enabling various prospective technologies to be examined.
"I can take some risks on this," she says.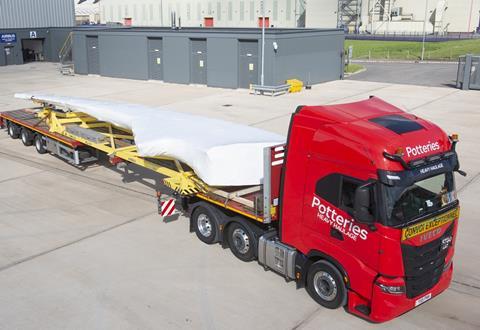 As part of the test regime it will be mated with a bespoke partial centre wing box – the first such wing-body join at Filton since the site manufactured supersonic BAC-Aerospatiale Concorde aircraft. This combined structure will eventually be transferred to the plant's Aerospace Integrated Research and Test Centre, attached to a 'strong wall' and physically loaded to destruction.
Broader spans conflict with the limited manoeuvring space at airports, and the Wing Technology Development Centre will support analysis of folding wing-tip designs. Wing-tip boxes have been manufactured, and a partner will supply a folding mechanism for integration.
While folding tips have been developed for the Boeing 777X, and military aircraft use folding wings to preserve space on constrained aircraft carrier decks, Partridge says research needs to explore other aspects.
ICAO Code C aircraft, such as the Airbus A320 and Boeing 737, have spans less than 36m. But Partridge says the Wing of Tomorrow programme is looking at 45m spans – requiring a 4.5m folding tip.
"The challenge for a single-aisle sized wing is there's much less space to get your system in," she says, adding that reliability is arguably a more crucial consideration for commercial aircraft than military. Broad spans could also push flight-control systems into the folding section, adding such complexity as power-supply bridging.
The folding-tip demonstrator is scheduled to be completed in autumn this year and installed in the AIRTeC facility for reliability and loading tests.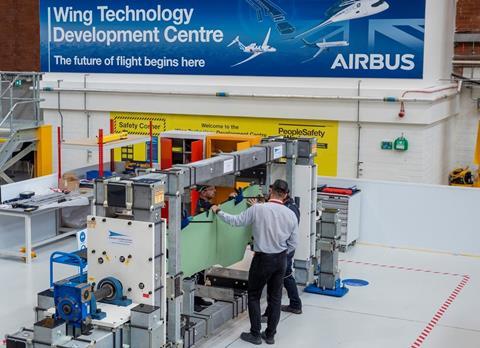 Complementing the Wing of Tomorrow programme is the 'eXtra Performance Wing' project undertaken through Airbus's UpNext innovation arm. The composite wing – to be assembled on the Filton site – will morph in flight, offloading stresses with active control features, and will be tested by replacing the wings of a Cessna Citation VII executive jet and flying it, uncrewed, over a French air force base.
Partridge says the wing is a scaled-down version of one which could potentially be adapted to larger commercial aircraft, and offers "more ingredients" on top of those already examined under Wing of Tomorrow.