Russian developers have tweaked the design of a proposed successor to the Antonov An-124 to increase its capacity, and assess the potential benefits of winglets.
The proposed design – tentatively designated the 'Slon', a word meaning 'elephant' – has been undergoing windtunnel tests at the Central Aerohydrodynamic Institute.
Previous testing examined the aerodynamics of the four-engined jet at various speeds.
As a result of these tests, the institute has modified the aircraft's design and configuration, increasing its fuselage cross-section to enhance its bulk cargo capability.
"Thanks to the enlarged fuselage, we will be able to offer customers transportation of large volumes of cargo for the estimated flight range," says integrated technology researcher Alexnder Krutov.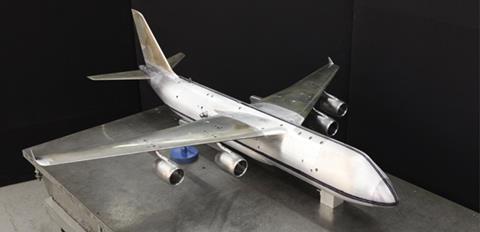 The refinements also include reducing the wing-fuselage fairing, and improving the engine pylons' and nacelle profile in line with plans to install Aviadvigatel PD-35 powerplants on the type.
Analysts also studied "several variants" of wing-tips, says the institute. The model, around 2m in length with a 1.8m span, shows small winglets fitted near the trailing edge.
"Comparing [the wing-tips'] effect on lift-to-drag ratio during testing, specialists will be able to choose the best option," the institute adds.
All the new design elements will be subjected to windtunnel testing by the end of this year, with researchers looking at the aerodynamic effects in cruise.
Krutov says the 'Slon' will be optimised primarily for civil operations, with a range of around 3,800nm (7,000km) and a payload capability of 180t.