Ascendance Flight Technologies has raised €21 million ($22.7 million) in its latest funding round, which the French start-up will use to accelerate development of its proposed Atea hybrid-electric vertical take-off and landing (VTOL) aircraft.
The Toulouse-based company says the new funds will enable it to fly its full-scale prototype, begin the certification process and start scale-up actions for its first aircraft.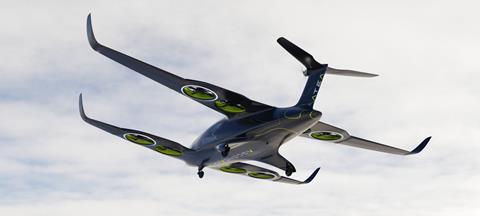 Atea is a five-seat, low-carbon aircraft scheduled to go into production in 2025 and enter service in 2026. Last year, Ascendance disclosed letters of intent for 245 Atea aircraft from six operators.
Vertical lift is provided by eight ducted fans – four in the wing and four in the canards – while thrust comes from a single nose-mounted propeller.
The start-up is also working towards integrating its Sterna hybrid-electric propulsion system, which it says is compatible with sustainable aviation fuel and hydrogen, into existing aircraft.
"This fund-raising round is critical for sustainable aviation in France," says Ascendance co-founder and chief executive Jean-Christophe Lambert. "It will accelerate the technical and commercial development of our products while also contributing to our central aim: to build a sustainable model for cleaner air mobility."
Ascendance's board members include Agnes Plagneux-Bertrand, who previously managed Airbus's E-Fan electric aircraft programme. The company is advised by the aerospace giant's former senior vice-president of engineering, Robert Lafontan.
Airbus ended its E-Fan X hybrid-electric demonstrator programme in 2020 to pursue hydrogen as the main source of propulsion for future aircraft.
"Unlike most of its competitors, Ascendance has chosen hybrid-electric propulsion as a realistic approach to sustainable aviation, applicable to multiple long-range uses," says the start-up.
Investors in the latest funding round include French bank Bpifrance and Paris-based private equity firm Habert Dassault Finance.
"We're impressed at the pace at which the company is growing, the implementation of its roadmap and the commitment of its teams," says Benoit Habert, managing director of Habert Dassault Finance.