Polish maintenance and engineering specialist Avia Prime has conducted its first Boeing 767-300ER freighter conversion in Europe, through its Serbian division Jat Tehnika.
The aircraft, which bears the Maltese registration 9H-CAC, is a Pratt & Whitney PW4000-powered example, originally delivered to Air Canada in 1996.
It has been modified through a co-operation with Israel Aerospace Industries on behalf of Challenge Group, which recently disclosed that it had secured investment to acquire and convert four 767s.
Challenge Group has airline divisions in Israel, Belgium and Malta.
Warsaw-based Avia Prime says 9H-CAC underwent conversion in Belgrade. It departed for Malta on 9 August.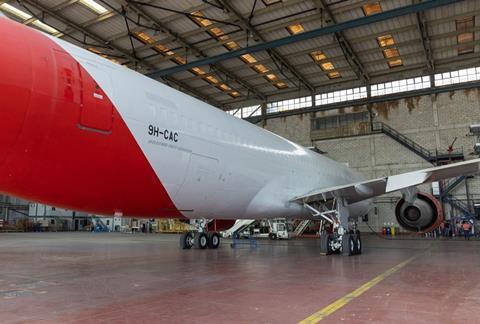 "We have been preparing for this for a long time, going through the most demanding aviation authority checks, and we are proud of the new technology and know-how that have been applied for the first time in Belgrade," says chief executive Piotr Kaczor.
"This is the beginning of a new chapter in the history of Avia Prime and European aviation, which will strengthen our position as the main European supplier for the conversion of Boeing and Airbus widebody aircraft."
Avia Prime says the 767-300ER is the "first in a series" of widebodies to be modified, and work to convert the next 767 is already underway.