BAE Systems has performed a maiden sortie of its solar-powered PHASA-35 high-altitude pseudo-satellite (HAPS) from the Woomera test range in South Australia. Further flights will follow this year, says BAE.
The 35m (115ft)-wingsan, 15kg payload PHASA - Persistent High Altitude Solar Aircraft - is one of a nascent category of unmanned air vehicles (UAVs) known as HAPS, designed to fly very high with very long endurance. By flying in the stratosphere as high as around 70,000ft, HAPS would operate above the weather, potentially for days or weeks on solar power.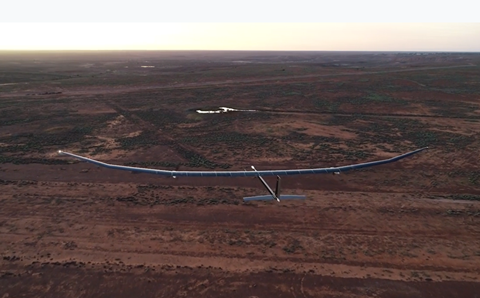 Altitude and longevity should make HAPS useful supplements to, or even replacements for, satellites. Where satellites operate in essentially fixed orbits and provide global coverage, they can only be launched with long lead times, while a HAPS aircraft could be deployed rapidly for localised applications. Typical payloads would be imaging systems, possibly for disaster relief or scientific missions, or telecommunications relay equipment to ensure coverage in remote areas.
PHASA-35 is similar in configuration to the Airbus Zephyr, which went through its first flight trials in Arizona in 2018, setting an aerial endurance record just short of 26 days before the project moved to Australia.
In Australia, a March 2019 crash damaged one aircraft, owned by the UK Ministry of Defence, which is understood to have purchased three Zephyrs, which are being built at a factory in Farnborough, Hampshire.
Following that setback, Airbus stressed that while the delicate aircraft is relatively safe from the weather at its normal operating level of around 65,000ft, the incident pointed to the need to take extra care with weather forecasts covering the take-off and climb phase.
PHASA's origins are also in Farnborough, home of UAV and satellite designer Prismatic, which was acquired by BAE in 2019.
Other HAPS projects include a joint effort by AeroVironment and Japanese telecoms operator SoftBank, under the name HAPSMobile. That aircraft, Hawk30, is designed to deliver internet services by flying for six months nonstop at around 65,000ft, carrying solar panels to charge batteries arrayed on its 78m flying wing configuration. Test flights began in the second half of 2019 at NASA's Armstrong Flight Research Center at Edwards AFB in California; further work may be carried out in Hawaii.
Boeing subsidiary Aurora Flight Sciences is working on its own version, called Odysseus. Taking a different approach, Thales is developing an autonomous airship called Stratobus.
Additional reporting by Garrett Reim in Los Angeles