Russia's Baikal Engineering has completed manufacture of a prototype airframe for the LMS-901 utility aircraft, which is intended as a replacement for the Antonov An-2.
The aircraft is being designed to transport up to 2t of payload with a range of 800nm (1,500km) and a cruising speed of 160kt.
It will also be able to take off from short unpaved airstrips.
Baikal Engineering is carrying out the work under a contract with the Russian trade and industry ministry, and co-operating with the Moscow Aviation Institute.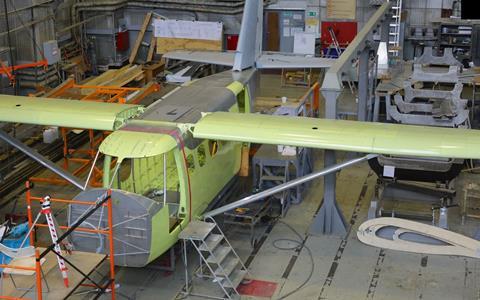 The company says the use of domestic components and assemblies was a condition of the project, along with cost-efficiency and high maintainability in local environments.
Baikal says the nine-seat aircraft will be "safe, affordable and versatile", with low operating costs, and will be 30-50% less expensive to purchase.
Chief designer Vadim Demin says work is underway to establish a centre of competence for small aircraft development in Russia, and integrate teams of personnel with the required skills.
The LMS-901 will participate in the MAKS Moscow air show in July, with testing scheduled to commence later this year.
Russian trade and industry minister Denis Manturov says the aircraft could become part of the fleet of a new airline being established to serve the east of the country.