Boom Supersonic has revealed greater detail of its Overture aircraft design, including its Symphony engine, after selecting primary suppliers to produce the composite fuselage, wing and empennage of the Mach 1.7 jet.
Spanish aerostructures firm Aernnova will supply the wings, while Italy's Leonardo will provide the wing-box and fuselage sections. Boom has selected another Spanish entity, Aciturri, for the empennage.
The gull-wing design is critical to the Overture's performance, intended to provide low-drag cruise while also capable of supporting stable subsonic flight.
"Overture will be an extraordinary opportunity to provide our expertise in the design and development of aerostructures for the first sustainable supersonic aircraft," says Aernnova chief Ricardo Chocarro.
Leonardo will be the design and build partner for two major fuselage components including the wing-box, and will also lead fuselage structural integration. Overture's fuselage tapers from forward to aft, a profile intended to minimise shock-related wave drag at transonic speeds.
The aircraft's empennage has a horizontal stabiliser designed to enhance subsonic control, notably during take-off and approach.
Supplier Aciturri's chief, Alvaro Fernandez Baragano, describes Overture as a "generation-defining project" and adds that the company will provide "decades" of aerostructures expertise to the supersonic programme.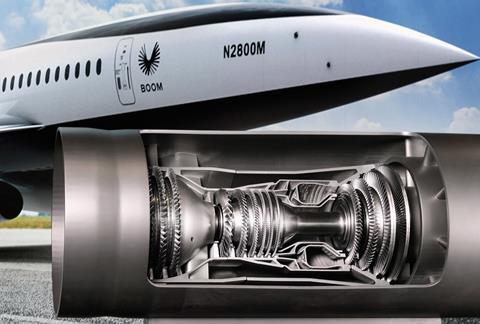 Boom has unveiled details on the system architecture for the aircraft, including its flight controls and triple hydraulic system, plus avionics, fuel and landing-gear.
"Overture's fuel systems provide centre-of-gravity control during subsonic and supersonic operations, enable sustainable aviation fuel compatibility, and supply fuel to the engines," the company states.
Boom is showing off a 3D-printed one-third scale model of the bespoke Symphony engine, detailing the architecture, as it expands its partnership with engine design partner Florida Turbine Technologies.
The agreement involves assembly of initial production powerplants for ground- and flight-testing, as well as certification. Initial production will take place in Jupiter, Florida.
Symphony is a two-spool turbofan, which will generate 35,000lb (156kN) thrust with no afterburner. It has a 72in (183cm) fan, three low-pressure and six high-pressure compressor stages, plus a single high-pressure and three low-pressure turbine stages.
Boom will leverage FTT's "considerable experience" with supersonic engines, the manufacturer states, in the shift from design to production.
"We believe there is large market potential for both Overture and Symphony, which will be transformational for the future of supersonic travel," says FTT president Stacey Rock.
Boom states that Overture's main systems will take advantage of certified technology to de-risk the supersonic programme, adding that it is "on track" to secure the majority of major system suppliers by the end of this year.
"We are incredibly proud of the progress with Overture and Symphony from our global team of partners and suppliers who continue to operate at an accelerated pace toward the future of sustainable supersonic flight," says Boom chief Blake Scholl.