UK aircraft manufacturer Britten-Norman is to collaborate with a shipping firm to advance the prospect of hydrogen-powered flights to the Isles of Scilly, an archipelago off the west coast of Cornwall.
The Isles of Scilly Steamship Group – which operates the local airline Skybus – has sold one of its Britten-Norman Islander turboprops to research firm Cranfield Aerospace Solutions, to be retrofitted with hydrogen fuel-cell technology.
It is a 1994 airframe (G-BUBP) and is set to be re-registered as G-HYUK.
Cranfield Aerospace Solutions has been pursuing the modification under a programme called Project Fresson.
The three organisations have signed a letter of intent outlining a commitment to "bringing hydrogen-powered flights to the islands", says Britten-Norman, and enabling commercial availability of zero-carbon services.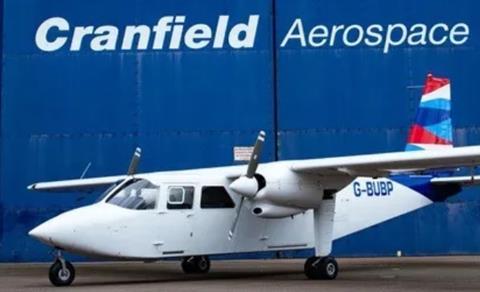 While Britten-Norman and Cranfield Aerospace Solutions originally considered battery power, the manufacturer says the weight penalty and charging time made a battery-only option "impractical".
"Moving to a hydrogen-electric fuel cell option provides operators with greater flexibility, higher passenger load, and improvements to the bottom line," it states.
The company says the concept would offer a potential halving of powertrain maintenance costs and a 40-50% reduction in variable costs.
As an Islander operator the Steamship Group will contribute its knowledge and understanding of infrastructure requirements to the programme.
Cranfield Aerospace Solutions says Project Fresson could conduct its first test flight in the first quarter of 2023, and aims to have new-build and retrofit product available from 2025. The organisation is also looking to develop 19-seat and 75-seat regional aircraft.
"The Isles of Scilly is a special and extraordinary place and we take our environmental policy very seriously," says Isles of Scilly Steamship Group chief Stuart Reid.
Use of the hydrogen-electric Islander, he says, will enable the company to protect the islands' landscape. Reid states that the letter of intent "really shows our commitment" to becoming an "early adopter" of the technology, and to a zero-emission aviation industry.