The Canadian government has ordered the seizure of a Volga-Dnepr An-124 stranded at Toronto Pearson Airport since the start of the war in Ukraine.
The aircraft landed at the airport on February 27, just hours before the government of Canada announced restrictions on Russian aircraft in response to the war.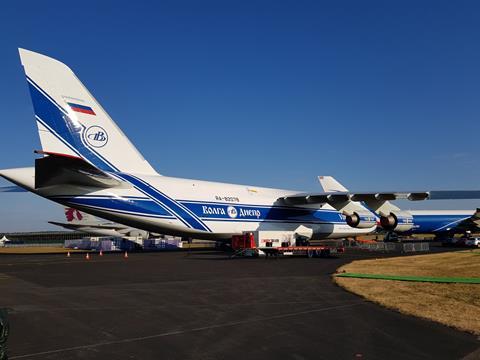 In June last year, the government amended the Special Economic Measures Act and the Justice for Victims of Corrupt Foreign Officials Act to allow it to seize and re-distribute assets belonging to sanctioned entities and individuals.
The aircraft could be handed over to Ukraine once seized, the Canadian government said.
"The Government of Canada will seize the asset and manage it in accordance with federal legislation," it said in a statement.
"Should the asset ultimately be forfeited to the Crown, Canada will work with the Government of Ukraine on options to redistribute this asset to compensate victims of human rights abuses, restore international peace and security, or rebuild Ukraine."
Omar Alghabra, Canadian minister of transport, said: "From the beginning, we have stood on the side of the Ukrainian people, and implemented a NOTAM (notice to all airmen) against all Russian-owned and operated flights into Canada.
"Today, we are demonstrating that Russia's actions continue to have consequences. We stand with Ukraine and will take any and all necessary actions, including this seizure, to put pressure on President Putin."
The An-124 in question is registered as RA-82078. It is 26 years old and the model can carry about 150t of cargo.
Story originally published by Air Cargo News.