Airbus has selected German firms KLK Motorsport and Gerg to design and build the aft structure of the airframer's electric vertical take-off and landing prototype CityAirbus NextGen.
The companies are located in Hohenthann, south-east of Munich, and specialise in composite design.
Airbus disclosed the new urban mobility partnership during the ILA air show in Berlin.
It says the companies will work through a collaborative framework and "mutually benefit" from one another's expertise to produce the lightweight structure.
CityAirbus is a four-seat eVTOL aircraft which is intended to have a range of over 40nm and a cruising speed of 65kt. The aircraft will be powered by eight electric propellers driven by a distributed propulsion system.
Its aft section is particularly distinctive, based on a V-tail design.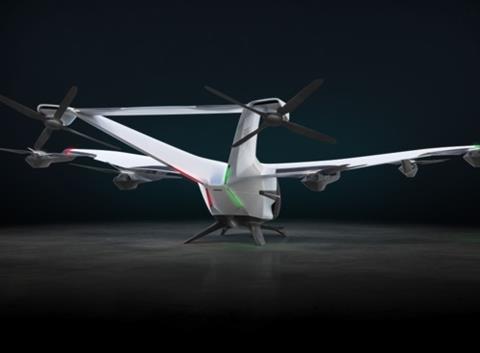 "Directly interacting with the centre fuselage and the wing, the rear structure will leverage both suppliers' expertise in homogeneous design for FormulaE and Formula One vehicles," says Airbus head of urban air mobility Joerg Mueller.
KLK Motorsport and Gerg have previously developed a high-visibility carbonfibre canopy for Airbus's high-speed Racer helicopter demonstrator.
They become the latest in a series of suppliers chosen by the airframer to support CityAirbus development, among them wing provider Spirit AeroSystems, and Thales and Diehl, who will develop flight-control systems.