German aerospace laboratory DLR has carried out trials of hydrogen combustion under realistic aircraft engine operating conditions, through a European Union research programme.
DLR has been co-operating with US powerplant manufacturer General Electric on the combustion of 100% hydrogen in engines.
GE Aerospace supplied a new system designed for direct hydrogen combustion as part of the four-year research partnership.
The manufacturer is planning to convert a Passport engine to use hydrogen fuel, which will be tested on an Airbus A380 as part of the airframer's ZEROe initiative.
Combustion tests have been carried out at DLR's propulsion technology institute in Cologne.
"Low emission and safe combustion of pure hydrogen in aircraft engines is still a major challenge today because the combustion behaviour is significantly different from that of conventional aviation fuels," says the organisation.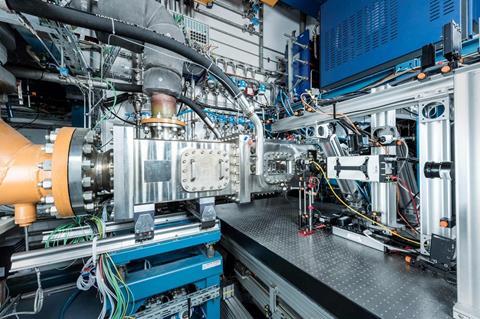 DLR and GE have been concentrating on high-pressure tests to explore the behaviour of the ignition and burn
"Realistic operating conditions are of vital importance, especially for hydrogen combustion in aircraft gas turbines, due to the particular characteristics of the fuel," says the DLR institute's acting director Bertram Janus.
"For the first time, we are investigating this challenging fuel under realistic conditions."
He says laser-optical measurement techniques have been used to analyse the combustion process without interrupting it.
The head of engine measurement systems at the institute, Christian Willert, says the techniques allow validation of numerical simulations.
"Optical measurements make it possible to instantaneously detect the reaction and heat release zones without affecting the combustion chamber flow," he says.
"These are supplemented by flow field measurements to track the movement of the air-hydrogen mixture and the reaction products through the combustion chamber."
Measurements enable the researcher to determine whether the combustion system meets expectations or whether adjustments need to be introduced, says GE Aerospace's Thomas Ripplinger, the thermal and combustion systems team leader at its Advanced Technology arm.
Development of a new propulsion system without carbon emissions by 2026 is the aim of the European Union's hydrogen demonstrator programme HYDEA. The programme is linked to Airbus's efforts to design a future zero-emissions aircraft for the mid-2030s. DLR and GE Aerospace are planning further tests with the high-pressure system.