Europe's safety regulator is to explore the expanded use of modelling and simulation to support certification of future eVTOL aircraft, given that the broad variation in designs makes assessment by flight-testing alone impractical.
Part of a wider programme evaluating the effects of digital transformation on aviation processes, the project aims to explore methodologies that could deliver practical and reliable flight load envelopes and distribution for fly-by-wire eVTOL craft powered by several rotors.
"Traditionally, the aircraft or rotorcraft loading conditions are derived from a well-defined flight envelope associated to standard manoeuvres," says the European Union Aviation Safety Agency.
But EASA says new eVTOL designs increase the complexity of loading as a result of having various configurations, with multiple thrust sources, and differing operating modes – such as the ability to transition from conventional aircraft to rotorcraft and back.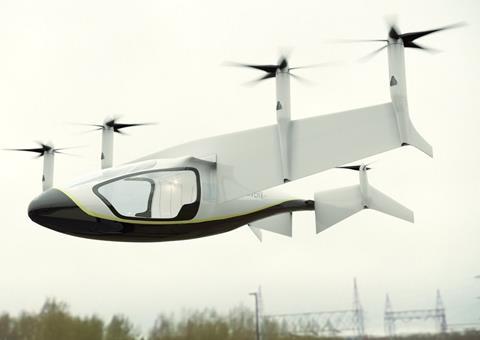 "These unique features combined with the implementation of flight-by-wire and complex systems generate extensive loading conditions," it states.
"This multi-dimensional flight domain makes the determination of the loading conditions extremely complex."
Modelling and simulation will be "key tools" for assessing the safety of designs, says EASA, which has issued a call for tender regarding the project.
The regulator says the primary challenge is to consider a large number of combination of configurations, control laws, flight regimes, individual rotor speeds, and failure conditions.
"It is impractical to explore all these combinations by flight-testing," it states.
Computer systems can handle complex mathematical models, says EASA, but it says a method simpler than detailed computation fluid dynamics analysis – backed up by artificial intelligence – might be a better option in order to allow multiple runs in a short time.