Slovakian authorities have granted a certificate of airworthiness to a road vehicle capable of transitioning to an aircraft, following a 70h flight-test campaign.
The KleinVision AirCar, powered by a 1.6-litre BMW engine, undertook over 200 sorties as part of the certification effort.
Transport Authority of Slovakia's civil aviation director Rene Molnar says safety is its "highest priority", and that it has "carefully monitored all stages" of the AirCar's development over the last five yars.
"AirCar combines top innovations with safety measures in line with [European Union Aviation Safety Agency] standards," adds Molnar.
"It defines a new category of a sports car and a reliable aircraft. Its certification was both a challenging and fascinating task."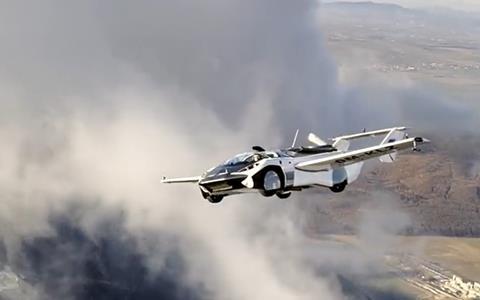 Flight-testing involved an extensive range of manoeuvring to demonstrate stability.
"AirCar certification opens the door for mass production of very efficient flying cars," says the aircraft's inventor, and test pilot, professor Stefan Klein.
KleinVision is testing a new Adept Airmotive engine for a further model, which will include a variable-pitch propeller, be capable of speeds exceeding 160kt and have a range of 540nm. The company expects the new production model to be certified in 12 months.