Creators of a road vehicle which can transition to an aircraft have carried out a developmental flight between airports in Slovakia, operating a 35min sortie from Nitra to the capital Bratislava.
The KleinVision AirCar, which has already completed over 40h of test flights, carried out the inter-city operation on 28 June.
"After landing, at a click of a button, the aircraft transformed into a sports car in under 3min," says the developer. The wings fold upwards, and then rearwards, and the twin-boom tail also retracts during the conversion."
Arrival of the aircraft (OM-KLZ) brought to 142 the number of landings achieved. The vehicle was subsequently driven to downtown Bratislava by its inventor, professor Stefan Klein.
"This flight starts a new era of dual-transportation vehicles," says Klein, adding that it "returns the freedom originally attributed to cars back to the individual".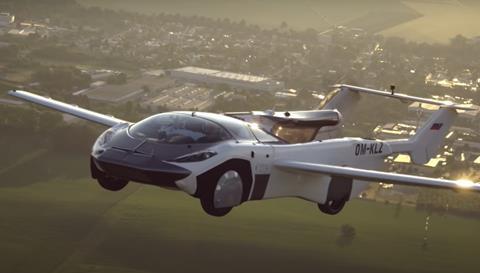 Powered by a BMW engine delivering 160hp to a fixed propeller, the initial prototype of the AirCar is fitted with a ballistic parachute. The test-flight programme has included operating to altitudes of 8,200ft and speeds of 103kt, and featured 45° banking.
Slovakian-based KleinVision says the inter-airport flight moves the vehicle "closer to production". A second prototype will have a more powerful 300hp engine and a variable-pitch propeller, and be capable of 540nm range and a cruising speed of 162kt.
This pre-production version will be submitted for European Union Aviation Safety Agency certification and approved for road use.
"AirCar is no longer just a proof of concept," says Klein Vision co-founder Anton Zajac. "It has turned science-fiction into a reality."