Rolls-Royce has transferred the power gearbox for its UltraFan engine to its UK site, where the future high-bypass engine demonstrator is undergoing assembly.
The gearbox has been sent from the manufacturer's facility at Dahlewitz in Germany.
Rolls-Royce is aiming to commence testing with the UltraFan demonstrator in Derby this year, using fully-sustainable aviation fuel.
It will be the largest aircraft engine built, with a fan diameter of 140in (3.55m).
Rolls-Royce says the gearbox is "critical" to the UltraFan's intended fuel-saving performance. The manufacturer expects it to burn 25% less fuel than its first generation of Trent engines.
During early testing, it adds, the gearbox has delivered 64MW of power.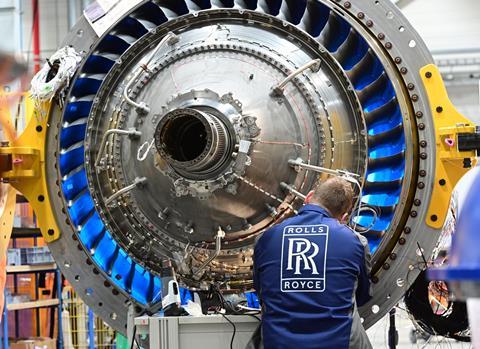 "This is a tremendous moment for everyone on the UltraFan programme as we take another step forward with the dispatch of the power gearbox," says Rolls-Royce civil aerospace president Chris Cholerton.
Rolls-Royce insists gas-turbine engines will remain the "bedrock" of long-haul air transport, and that UltraFan will improve the economics of operating with sustainable aviation fuel – which, it says, is likely to be more expensive in the short term than conventional products.