Czech defence electronics and aviation technology company Omnipol Group has agreed to acquire the entirety of the aerospace firm Aircraft Industries from its Russian owners.
Russian mining entity UGMK has controlled the company since 2008 when it acquired a 51% share of the firm, which produces aircraft including the L-410 turboprop.
UGMK consolidated its interest in 2013 by taking the remaining 49% shareholding.
Omnipol has not disclosed terms of the acquisition but says the Russian owners have agreed to sell the whole shareholding to its associated Prague-based entity OMPO Holding.
It says Aircraft Industries was placed in a difficult position because Russia, a core market, was subject to European Union sanctions.
"There are not many traditional Czech manufacturing companies on the market," says Omnipol president Jiri Podpera. "So it is our duty to maintain and further develop their production."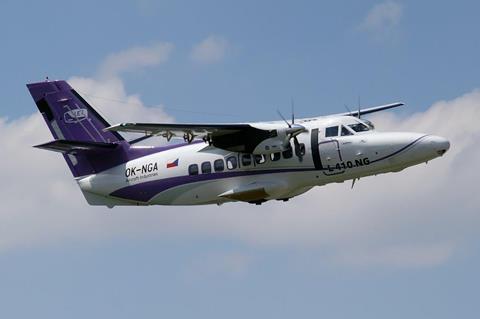 Omnipol had already been involved in a deal to take over the Czech aircraft manufacturer Aero Vodochody, in partnership with Hungarian business interests.
"We want to help save another representative of the Czech aviation industry," says Podpera.
Omnipol was previously linked to Aircraft Industries' activities, reaching a co-operation agreement with the company last year.
It says efforts to obtain supplies outside of Russia are developing successfully and refers to prospective new aircraft supply contracts.
"The acquisition aims to stabilise [Aircraft Industries] and maintain production capacity," it adds.
Aircraft Industries chief executive Ilona Plskova says the agreement will provide employees with a "reliable and safe environment" in which to continue working.
"We have been co-operating with some of the Omnipol Group's production companies for a long time, and direct involvement in the group will further deepen our mutual activities," she adds.