Dassault Aviation's Falcon 6X business jet has secured certification from the European Union Aviation Safety Agency and the US Federal Aviation Administration.
The French manufacturer, which commenced the wide-cabin 6X programme in 2018, first flew the aircraft in March 2021.
Powered by Pratt & Whitney PW812D engines, the aircraft has a length of 25.5m and a span of 25.9m.
EASA puts its maximum take-off weight at 35.1t.
The 6X is certified to carry up to 19 passengers and a crew of three.
Dassault describes the 6X as the "first extra-wide body business jet", and puts its maximum range at 5,500nm (10,200km).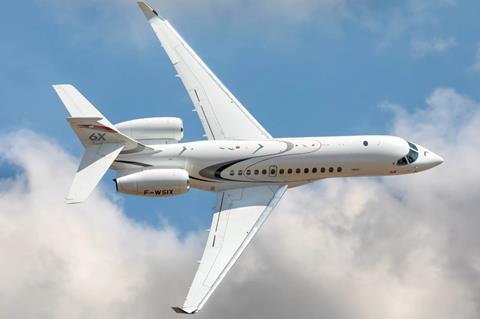 Chief executive Eric Trappier says the European and US approvals are a "remarkable milestone" for the company, adding that the 6X is the first brand-new business jet to comply with the latest safety regulations from the authorities.
The certification concludes a test campaign which ran for more than two years and accumulated some 1,500h of flight.
Initial 6Xs are undergoing final completion ahead of entry into service, says the manufacturer.
Trappier had told investors in July that the certification would "probably take place this summer".
"As soon as we have received certification, we will commission this aircraft and we will begin deliveries to our first clients," he said.
"There'll be a demonstrator, and the future clients will be able to assess the 6X in flight, and this will definitely boost the sales of the 6X."
The company has completed preparations, including training and establishment of maintenance centres, for 6X entry into service.
Dassault Aviation had included the 6X among the models in its latest forecast of 35 Falcon jet deliveries this year.
The airframer launched the 6X development in response to the cancellation of the 5X programme on the back of issues with its Safran Silvercrest engines.