Deutsche Aircraft has reached an exclusive agreement with France's Satys Cabin for the design and production of interior fittings on its D328eco turboprop.
The D328eco is a 40-seat regional aircraft, a modernised and enhanced version of the Dornier 328. Its manufacturer is intending to achieve first flight in mid-2025.
Satys Cabin, formerly known as Satys Interiors Aero, has facilities in Toulouse, Paris and the Chinese city of Tianjin.
It specialises in producing interior panels, furniture, electrical components, air conditioning and lavatory systems, with customers including Air France, Royal Air Maroc, Airbus and Sabena Technics.
The company employs around 170 personnel and is hiring another 30 engineers and production staff at its French sites by the end of this year.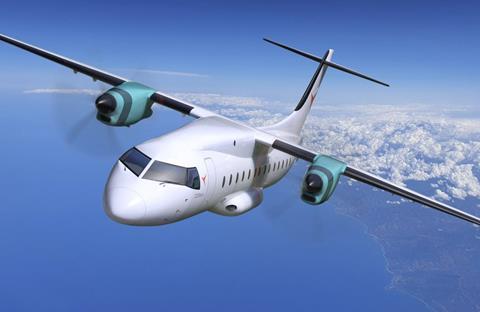 "Satys Cabin's objective is to become, in the short term, the 'biggest of the small' in the aircraft cabin-fitting market," says managing director Antoine Gaugler. The company says it signed the Deutsche Aircraft contract on 24 October.
Deutsche Aircraft vice-president of purchasing Maximilian Fahr says Satys Cabin has an "innovative product" which is "compatible with our development milestones and in line with our vision of reducing emissions".