European regulators have put forward informal guidance on pilot type-rating requirements for eVTOL craft, to assist manufacturers seeking certification to develop a customised training syllabus.
While the European Union Aviation Safety Agency has determined a need for a type rating on such vehicles, devising licensing and training criteria is lagging the development schedule for a number of manufacturers.
EASA believes some eVTOL operators will be ready to commence services before frameworks are in place.
It has already put forward a "bridging solution" to ensure eVTOL operations are supported by qualified personnel, through which commercial pilot and helicopter licence-holders would have an eVTOL endorsement.
This would serve until a comprehensive framework is fully introduced.
EASA says the eventual syllabus for eVTOL type-rating training will need to draw from different sections of current licensing requirements – including those covering helicopters, aircraft and powered lift.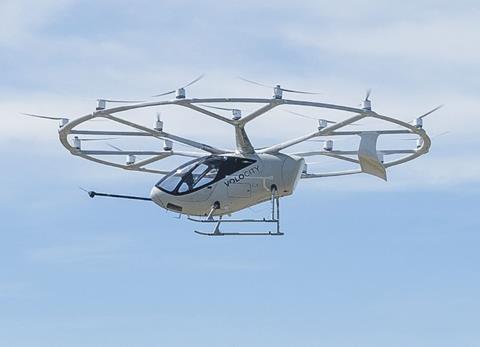 Although applicants for type certificates will need to carry out a "gap analysis" to develop customised syllabuses, which would be approved as part of operational suitability data, the regulator says no advisory material is available to assist them.
It is proposing a certification memorandum to guide applicants on carrying out gap analysis to support creation of a pilot type-rating syllabus.
This analysis would properly identify training elements based on specific eVTOL aircraft characteristics – such as the cockpit environment, control logic, handling characteristics, and limitations.
Based on current training frameworks, the proposal states, a "coherent" and "detailed" table on training items should be drawn up by the applicant – similar to the training footprint outlined in current EASA materials.
Any additional training elements should be included and, where necessary, specify how current aircraft and helicopter licence-holders should obtain the necessary competence for operating the eVTOL.