UK budget carrier EasyJet is to support the hydrogen fuel-cell development initiative of Cranfield Aerospace Solutions, which is working to fit a future propulsion system to a Britten-Norman Islander turboprop.
EasyJet says it will provide an "airline operator's perspective", as well as "internal expertise", to assist the technology firm's efforts.
Cranfield Aerospace obtained an Islander from UK regional operator Isles of Scilly Steamship Group for retrofit last year.
It states that it aims to fly the aircraft by 2023 and is working with EasyJet to understand how zero-carbon technology can integrate with air carrier operations.
EasyJet has already established co-operation with other future propulsion technology programmes, notably that of US-based Wright Electric which is aiming to develop a single-aisle aircraft with an electric powertrain.
Director of flight operations David Morgan says the collaboration with Cranfield Aerospace is intended to help bring such technology "to maturity as early as possible".
"We know that technology is a key driver to achieve our decarbonisation targets, with hydrogen propulsion a frontrunner for short-haul airlines like EasyJet," he adds.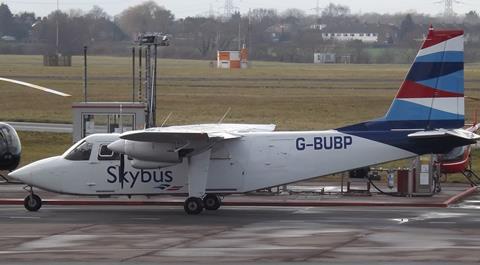 EasyJet believes it could be operating flights with hydrogen-electric or hydrogen-combustion engines – or a hybrid – by the mid- to late-2030s.
Cranfield Aerospace Solutions chief Paul Hutton says the propulsion technology "must be commercially viable", and that the budget airline is "ideally-placed" to support the company's development effort "with the end user in mind".
He says the nine-seat Islander project is a "vital first step" towards ultimately designing 19- to 100-seat regional aircraft.