Senior aerospace technology figures believe government incentives and co-ordination will be vital to achieving the sustainable aviation fuel targets newly laid down by the European Union, pointing out that the fuel ecosystem – rather than the technology – is the crucial aspect.
Under the EU proposal the share of sustainable fuel at EU airports must reach 2% by the beginning of 2025, increasing to 5% from 2030, then 32% from 2040 and 63% in 2050.
At each stage the EU will also demand a specific proportion of synthetic fuel as part of the overall sustainable fuel availability – starting from 0.7% in 2030 and rising to 28% in 2050.
While the major commercial engine manufacturers are already testing their powerplants' compatibility with 100% blends, the take-up of sustainable fuels in operations remains low, at just fractions of a percent.
Speaking during an Farnborough Connect panel on 14 July, Rolls-Royce chief technology officer Paul Stein stressed: "The problem isn't the engineering, it's the supply."
"A blend mandate drives the market," he says, referring to the EU proposal, adding that it provides "certainty for suppliers" and creates a "perfect circle" connecting all the aviation industry participants.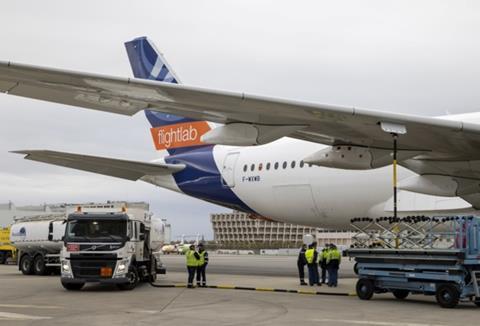 Newly-appointed Airbus chief technical officer Sabine Klauke says meeting the ramp-up targets "really needs a reaction in terms of incentivising".
"It's really something on which we have to act," she adds, stating that Airbus has a "role to play" to "take the ecosystem forward".
As part of this effort, she says, Airbus has launched an internal programme to look at how it can increase the blend ratio to 50% for its own internal test flights and logistics operations.
Her counterpart at Boeing, Naveed Hussain, says there is a need to ensure that 100% sustainable fuel compositions are "just as safe" as conventional fuels.
"Beyond the technology barrier, the key to the objective is accelerating scale," he says. "That's going to involve a number of elements."
These include incentives to make sustainable fuel competitive with conventional Jet-A, access to capital to allow development of production capacity, and "stable and predictable" government policies "to reduce risk", adds Hussain. There will also be a requirement to create "stronger demand signals" from airlines and travelers for fuel that meets sustainability criteria, he says.
"We need aggressive goals," argues GE Aviation chief engineer Chris Lorence. "There's been so much discussion of 2050 but so little discussion of what happens in between."
He queries how the EU is intending to support the ecosystem, believing that support and incentives are needed to catalyse and harmonise the industry and "get it moving in the way we want".
GE Aviation is partnered in the CFM International venture by France's Safran, whose senior executive vice-president for research and technology Eric Dalbies says: "As far as the engineering challenge is concerned, I'm not worried about this."
But he says that – alongside looking at such aspects as life-cycle duration of components which are "digesting these new fuels" – the industry would be "wise" to ensure parallel investigation of hydrogen's potential to serve as a complement to sustainable fuel in the longer term.
Ramping up the use of sustainable fuels to meet the EU targets will need political as well as technological capabilities, the panel participants agreed, but Paul Stein cites the global response to the pandemic as evidence that such collaboration is achievable.
"Of course it can be done. Look at the vaccination crisis, and how the world has re-industrialised," he states. "It's that sort of spirit that will be required."