Airbus is encouraged by plans to end the long-running transatlantic dispute over subsidies for large civil aircraft programmes through a series of steps outlined by a co-operative framework.
European trade commissioner Vladis Dombrovskis has reached an "understanding" with US trade representative Katherine Tai intended to address bilateral issues through a collaborative platform.
The understanding sets out a framework under which financing to large civil aircraft manufacturers would be provided on market terms.
Research and development funding will be supplied through an "open and transparent" process, the Commission adds, with the results of government-funded research made "widely available", within the law.
Such funding and other specific support, including particular tax breaks, that harm competition would not be permitted.
The two sides will also set up a working group on large civil aircraft, headed by one another's trade ministers, and collaborate on addressing harmful non-market activities by third parties.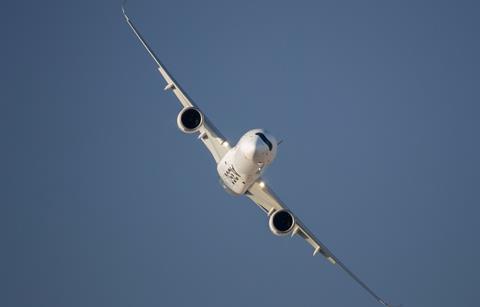 Airbus says it "welcomes" the agreement, stating that it will "provide the basis to create a level playing-field".
"It will also avoid lose-lose tariffs that are only adding to the many challenges that our industry faces," it adds.
Chief commercial officer Christian Scherer, speaking during an Airbus briefing on 15 June, said the decision "seems to indicate convergence" between the US and European representatives, describing the progress as "good news".
"Just ask our customers. Ask airlines whether they're in favour of tariffs," he adds.
Scherer claims Airbus has not lost orders as a result, the dispute has "certainly disrupted the marketplace and upset a number of customers".
"An upset customer…is never a good thing to have," he says.
Under the US-European proposal, the current suspension of retaliatory countermeasures – which were authorised by the World Trade Organization – will be continued for a five-year period. This will enable importers of various products, including civil aircraft, to avoid tariffs.
European Commission president Ursula von der Leyen says the agreement is a "major step" towards resolving the dispute which has run since 2004.
"Our transatlantic partnership is on its way to reaching cruising speed," she adds. "This shows the new spirit of co-operation between the EU and the USA and that we can solve the other issues to our mutual benefit."
Valdis Dombrovskis adds that the agreement amounts to "grounding the Airbus-Boeing dispute".
"It proves that the transatlantic relationship is now moving to the next level, and that we can work with the US [government] on tackling long-running disputes," he says.
"We now have time and space to find a lasting solution through our new working group on aircraft."