United Aircraft has transferred for ground- and flight-testing the first Ilyushin Il-76 to be manufactured on the advanced assembly line established at its Aviastar facility.
The Il-76MD-90A four-engined heavy transport has been formally sent to the flight-test station at Ulyanovsk.
United Aircraft revealed last year that a new digital automated line had been set up at Aviastar to reduce substantially the complexity involved and the time required for assembling the aircraft.
It stated that the line was capable of building 18 Il-76s annually and featured several robotic stations to support the mating of the primary structures and installation of systems.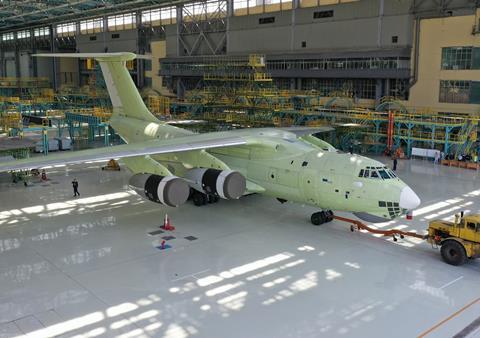 "This is a landmark event," says Aviastar managing director Sergei Sheremetov. "Introduction of a new technological process will contribute to increased serial production volume of more than 10 aircraft per year."
United Aircraft says the new line – comprising 10 work stations – cuts labour intensity by 38%, using capabilities including laser-positioning for accurate aerostructure join.