Canadian aerial firefighting specialist Conair Group has emerged as the buyer of 11 Bombardier Q400 turboprops formerly operated by UK regional carrier Flybe.
The aircraft had been the subject of a sale arranged through Skyworld Aviation, which had disclosed its appointment to market the "vintage" aircraft – dating from 2007 to 2009 – in August last year.
Conair Group says it will start receiving them this month, stating that they will be converted to Q400AT air tankers and join its firefighting fleet of 70 aircraft – which includes such types as the BAE Systems Avro RJ85 and Convair 580.
"The purchase marks the most significant investment Conair has made to date towards developing a fleet of next-generation aircraft designed to better fight wildfires for years to come," it adds.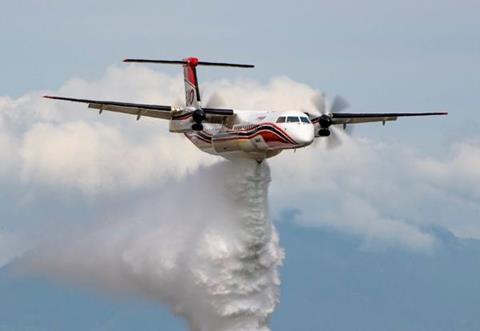 Conair says that aircraft used for firefighting are often ageing models, built to outdated standards, which are then pressed into demanding service, with the risk that they will develop metal fatigue and require expensive maintenance that involves sourcing parts of limited availability.
The acquisition of the Q400s for conversion is part of a strategy to replace the older and larger aircraft in Conair's fleet with fast, manoeuvrable and fuel-efficient types.
Conair says it examined 29 airframes before picking the Q400 as a conversion platform, and has been modifying the type both as the Q400AT dedicated air tanker and the Q400MR multi-role aircraft.
The Q400AT's primary feature is a 10,000-litre retardant tank.
Director of business development Jeff Berry says the turboprop is "tactically flexible", capable of serving both the initial attack and sustained support roles.
He also points out that – with the transfer of production from Bombardier to De Havilland Canada – the aircraft has "strong" support from the manufacturer, with long-term parts and maintenance availability.
De Havilland Canada vice-president for marketing and sales Philippe Poutissou says the "versatile" aircraft "continues to be an ideal platform for special-mission operations".
Conair says it has acquired six new and 13 used Q400s over the past two years. Four Q400MRs are in service in France and its first Q400AT was put into operation in Australia last September.
Conversion of the latest Q400s will be carried out in Abbotsford. Delivery of the aircraft, which are in storage with Dutch firm Samco, will be overseen by asset manager Fintech Aviation Services.