Russian researchers have raised the possibility that an Antonov An-124 successor could be designed with folding wing-tips to improve aerodynamic efficiency.
The aircraft – dubbed 'Slon', meaning 'elephant' – was originally unveiled as a proposed outsize transport five years ago, with an envisioned payload capability of 150-180t.
It is a candidate for the high-thrust Aviadvigatel PD-35 engine, part of the powerplant family which includes the PD-14 for the Irkut MC-21 and the PD-8 for the SSJ-New.
Moscow's Central Aerohydrodynamic Institute has since been analysing various aspects of the Slon's design under a Russian trade and industry ministry contract.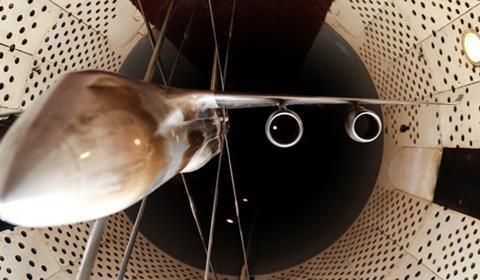 The institute says "particular attention" has been paid to the various wing-tip options, including the use of elongated and sickle-shaped designs.
These have demonstrated an increase in aerodynamic quality during cruise, it states, but integrated technology researcher Alexander Krutov says: "It is too early, at this stage, to make an unambiguous choice."
Krutov points out that the extended wing-tips would require a "folding mechanism".
"This will make the aircraft heavier, more difficult to build and more expensive to manufacture," he adds.
"But their introduction, of course, will have a positive effect on its aerodynamics."
The simpler option of using shorter wing-tip designs will reduce the range slightly, says Krutov, but result in a lighter structure and preserve the load-bearing characteristics of the wing.
"Reducing the wingspan will allow the aircraft to be based in a larger number of airports," he adds.
The research programme has also looked at increasing the fuselage size which, the institute claims, does not significantly reduce the aerodynamic performance, while a smaller and simplified wing-fuselage fairing will lower production costs.
Modified engine pylons and nacelles will also improve flow around the lower surface of the wing, it adds. The Slon is intended to carry outsize cargo over a range of 3,800nm (7,000km).