German aerospace research laboratory DLR is to convert a Dornier 328 turboprop into a hydrogen fuel and propulsion testbed.
The aircraft will be stationed at the research centre in Braunschweig.
DLR says it will be used to explore "disruptive" hydrogen technologies under a decarbonisation programme known as UpLift.
Deutsche Aircraft successfully competed for the aircraft contract during a public tender process, and a purchase agreement was signed on 20 June.
The contract covers conversion of the turboprop into a flight-test platform. Deutsche Aircraft took over the Dornier 328 line, and is separately engaged in developing a modernised version, the D328eco.
DLR points out that the 328 is a robust, high-performance aircraft and has a large, tall cabin offering room to install different technical equipment.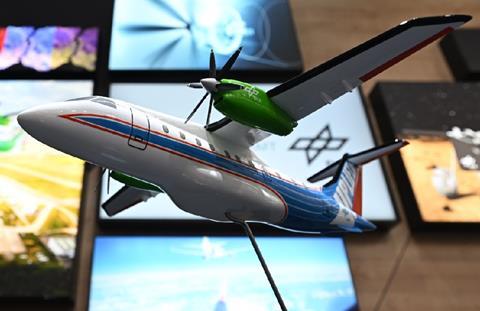 According to DLR chief Anke Kaysser-Pyzalla the 328 will "perfectly complement" the organisation's research fleet.
"[It will] pave the way for a new, climate-friendly aircraft generation in the regional aircraft class," she adds.
The aircraft will be able to test various propulsion concepts including hybrid systems, as well as innovative fuels.
"It will be available for as many interested partners as possible due to its modular design – especially SMEs and start-ups without their own facilities for flight testing," says DLR.
Germany's government is funding an aeronautics research programme, 'LuFo Klima', and, as part of it, the flying testbed initiative was launched in May.
"What seems far away today can only come closer if we actually test new technologies," says federal German aerospace policy co-ordinator Anna Christmann.
"With the flying testbed, we are once again making good progress in the practical testing of disruptive hydrogen technologies, and are one step closer to the common goal of climate neutrality in air transport."