Swedish collaborative research into future hydrogen propulsion will include a two-year project examining engine subsystems for medium-range civil aircraft, to be led by GKN Aerospace.
The SKr24 million ($2.8 million) programme, designated H2JET, aims to develop technical solutions for three powerplant subsystems.
H2JET will specifically look at hydrogen-combustion turbofans or turboprops for the single-aisle sector.
The intention is to explore options to power aircraft on intra-European routes in 2035.
GKN Aerospace says the programme complements its H2GEAR project, which is focused on liquid-hydrogen propulsion for sub-regional aircraft models.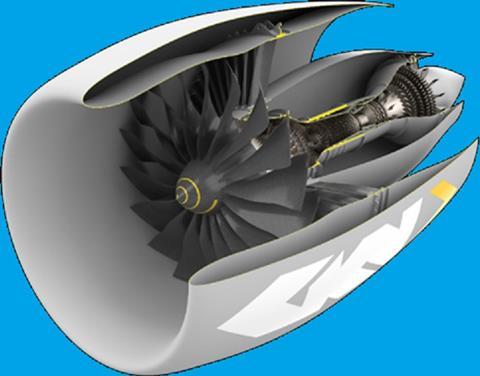 While H2GEAR is looking at fuel cells as the source of power, the direct combustion of hydrogen is an alternative means of energy generation.
"By validating subsystem and component technologies for hydrogen combustion engines, H2JET will speed up the development of vital international engine and aircraft demonstrator programmes," says GKN Aerospace.
The company has a presence in Sweden, through its technology and manufacturing centres in Trollhattan.
"We will be able to build on our long experience of hydrogen technology from Europe's Ariane rocket launcher, as well as our unique capabilities in lightweight design and advanced manufacturing technology," says the centre's vice-president, Henrik Runnemalm.
GKN Aerospace is co-operating with the Swedish Energy Agency – which is funding a broad sustainable aviation initiative – as well as institutions including Lund University, Chalmers University of Technology, KTH Royal Institute of Technology, University West, Research institutes of Sweden, and Oxeon.
The Swedish Energy Agency and GKN Aerospace and its partners are jointly funding the H2JET project.