US developers of an electric ground-effect vehicle have attracted the interest of a French ferry operator, which is exploring its potential for high-speed sustainable overwater transport.
Brittany Ferries says it has signed a letter of intent with the Boston-based start-up company Regent with a view to capitalising on commercial operations with variants of the craft.
While Regent is looking to introduce the 'seaglider' vehicles from 2025, Brittany Ferries envisions larger craft – carrying 50 to 150 passengers – operating cross-Channel routes from 2028.
Ground-effect is the lift generated while an aircraft is particularly close to the surface of the earth, generated by air forced through the narrow space between, and aided by reduced aerodynamic drag.
"Following departure from port, the craft rises on foils insulating passengers from wave discomfort," says Brittany Ferries, which says the vehicle is a type "never before seen" by passengers using the busy UK-French sea crossing.
"In open waters, it takes off, riding the air cushion all the way to its destination."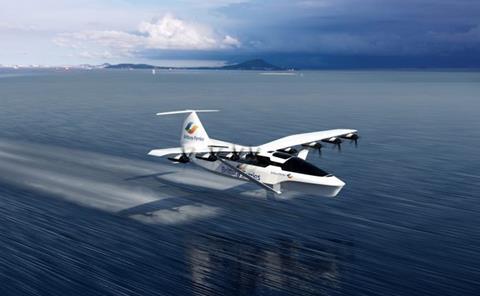 Such lift has been associated particularly with large experimental craft – known as 'ekranoplans' – developed by the Soviet Union, notably the huge Alexeyev KM tested on the Caspian Sea from the 1960s. Russian researchers have continued to examine the potential of the ekranoplan for freight transport.
Regent's initial proposal is a strut-braced high-wing design with eight electric engines, capable of operating at 150kt just a few metres above the sea surface.
While the cross-Channel ferry sector has previously deployed hydrofoils and hovercraft, Regent says the seaglider will combine speed and comfort advantages of both.
Brittany Ferries' operational experience will assist the vehicle's developers to ensure that it becomes the "most convenient and comfortable form" of travel on the routes, says Regent chief executive Billy Thalheimer.
Regent is looking at different variants of passenger seagliders. It claims initial vehicles would have 150nm range with current battery technology, and predicts this will rise to over 400nm as batteries evolve.
Brittany Ferries acknowledges that ground-effect craft face a number of technological and regulatory hurdles, but ports and operations director Frederic Pouget describes the seaglider as an "attractive and exciting concept".
"We are particularly pleased to contribute now because it means we can bring real-world challenges and potential applications into the company's thinking at an early stage," he adds.