Rolls-Royce has formally commenced construction of the UltraFan high-bypass engine, with the aim of producing a demonstrator by the end of this year.
Work on the first module for the demonstrator, designated UF001, has started at the manufacturer's facilities in Derby. Its first test run will be carried out using wholly-sustainable aviation fuel.
Assemblies including the fan components and power gearbox are respectively under production in Bristol and Dahlewitz, in preparation for delivery to Derby.
UF001 will be limited to ground testing. Rolls-Royce will use the findings to decide when to shift to a flight-test engine.
UltraFan has been intended for large civil aircraft from 2025 onwards, although the air transport crisis – which is particularly affecting the long-haul market – is likely to push back the service entry.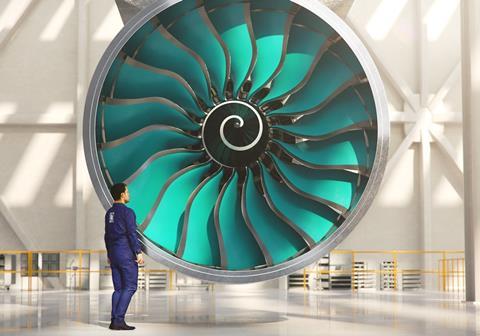 The initial powerplant will have a 140in (3.55m) fan diameter and provide a 25% cut in fuel burn compared with Rolls-Royce's first generation of Trent engines.
This will amount to a 40% increase in fan area compared with the Trent XWB for the A350 and a 9% increase on the General Electric GE9X for the Boeing 777X.
Although attention is turning to alternative power sources, including electric motors and hydrogen fuel, for short-haul and regional aircraft Rolls-Royce says gas turbines "will continue to be the bedrock of long-haul aviation for many years".
UltraFan's efficiency, it says, will enable operators to offset higher near-term costs of sustainable aviation fuels compared with current conventional kerosene-based fuel.
"[The demonstrator] is arriving at a time when the world is seeking ever more sustainable ways to travel in a post-Covid world," says Rolls-Royce civil aerospace president Chris Cholerton.
"It makes me and all our team very proud to know we are part of the solution."
UltraFan derives its core architecture from Rolls-Royce's Advance 3 programme and a lean-burn combustion system called ALECSys.
The geared-fan engine will have carbon titanium fan blades, ceramic matrix composite components and a lightweight composite casing.
UK and European Union funding has supported the UltraFan demonstrator development, sourced from agencies including Innovate UK, the Aerospace Technology Institute, and Germany's national aviation research programme LuFo, as well as the EU's Clean Sky Joint Undertaking.